Sheryl Crow was not wrong when she said a change will do you good. Last month I moved house, and it has made the infinite difference to my happiness and motivation. I moved into an unfurnished property with my friends and fellow presenters Charlotte de Carle and Huw Joseph and it's the first place I've had in London that has a garden, which has been especially amazing because of all the good weather recently.
Anyway, I spent A LOT of time looking on Pinterest to create my dream home, and we finally have everything how we want it. I've been posting a few pics on my social media and so many of you asked me where things were from I thought I would write this post so you can get all the details.
Living Room
Probably my favourite room, and totally Pinterest inspired, is our living room. Most of the furniture is from West Elm, which has to be one of the best furniture shops ever. Our coffee table even folds out so you can eat on it, and the rug is the softest thing ever, but my favourite piece of furniture has to be the corner sofa.
My brother got me the Disney minimalist prints a few years ago, but I decided to buy oak frames to kept the theme to the room more, and I love them! I also found a website called Oakdene Design that makes the most amazing quote prints, I've got one in the living room and loads in my room.
I bought a rose gold television which is probably the most beautiful thing ever, and the most amazing cable knit throw. The cushions were a total coincidence, as Charlotte and I each own one, but they work really well. I love the subtle pop of colour.
Probably the best part about the room is the way it smells though. I got one candle from L'Occitane and I haven't even had to light it and the whole room smells so clean and fresh!
Sofa: West Elm
Coffee Table: West Elm
Console Table: West Elm
Rug: West Elm
Disney minimalist prints: Etsy
This is the Life print: Not on the High Street
Cable Knit Throw: Curated Living
Cushions: Ohh Deer & Pets Rock
Runner: White Company
Candle: L'Occitane
LG TV: Appliance Direct

Bedroom:
When it came to decorating my bedroom I decided I wanted to embrace my copper obsession and I went all out. Turns out there's a lot of incredible copper homeware around right now. My bed and bedside table are both from Made, my floor lamp and storage trunks are from Barker & Storehouse (every single person who sees them is obsessed), my table lamp is from John Lewis and my pineapple money jar is from Red Candy. Oh and it's worth mentioning that my mattress is from Simba because it's the comfiest thing I've ever laid on, seriously!
I love the contrast of copper with greys so I got my bedding and throw from Made, the cashmere blanket from John Lewis, and a dark charcoal rug from West Elm. I complimented the theme with some amazing prints – lots of quotes from Oakdene Designs and a Marilyn Monroe and Brigitte Bardot print both from Made.
My desk and chair are actually from eBay, but I love working on a yellow desk, it's such a happy colour. And my drawer and shelving are both West Elm.
Finally, a bit like the L'Occitane candle in the living room, the Anthrolpologie candles are the best I have ever smelt and you don't even need to light them. I was walking through Selfridges and could smell them and had to sniff the smell out!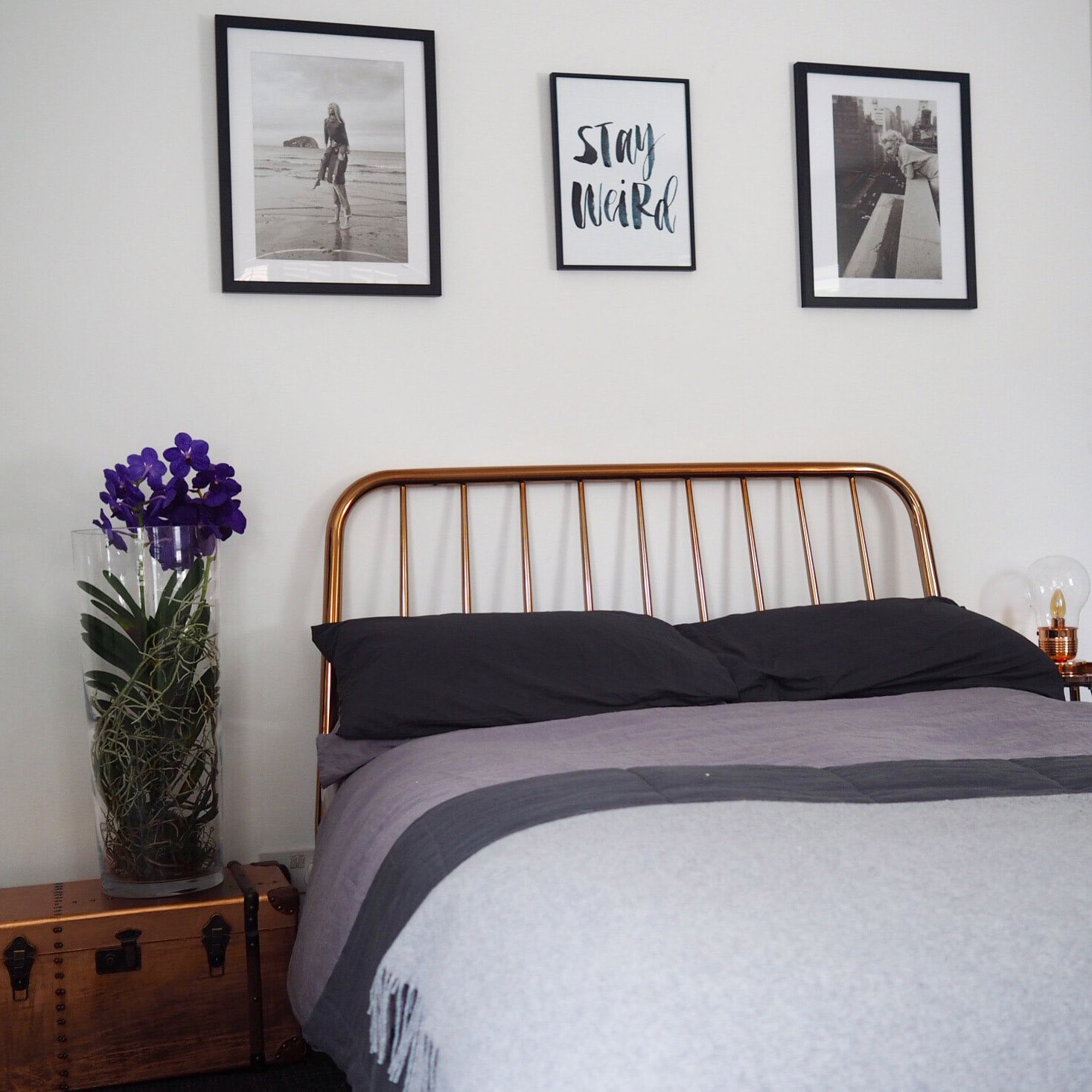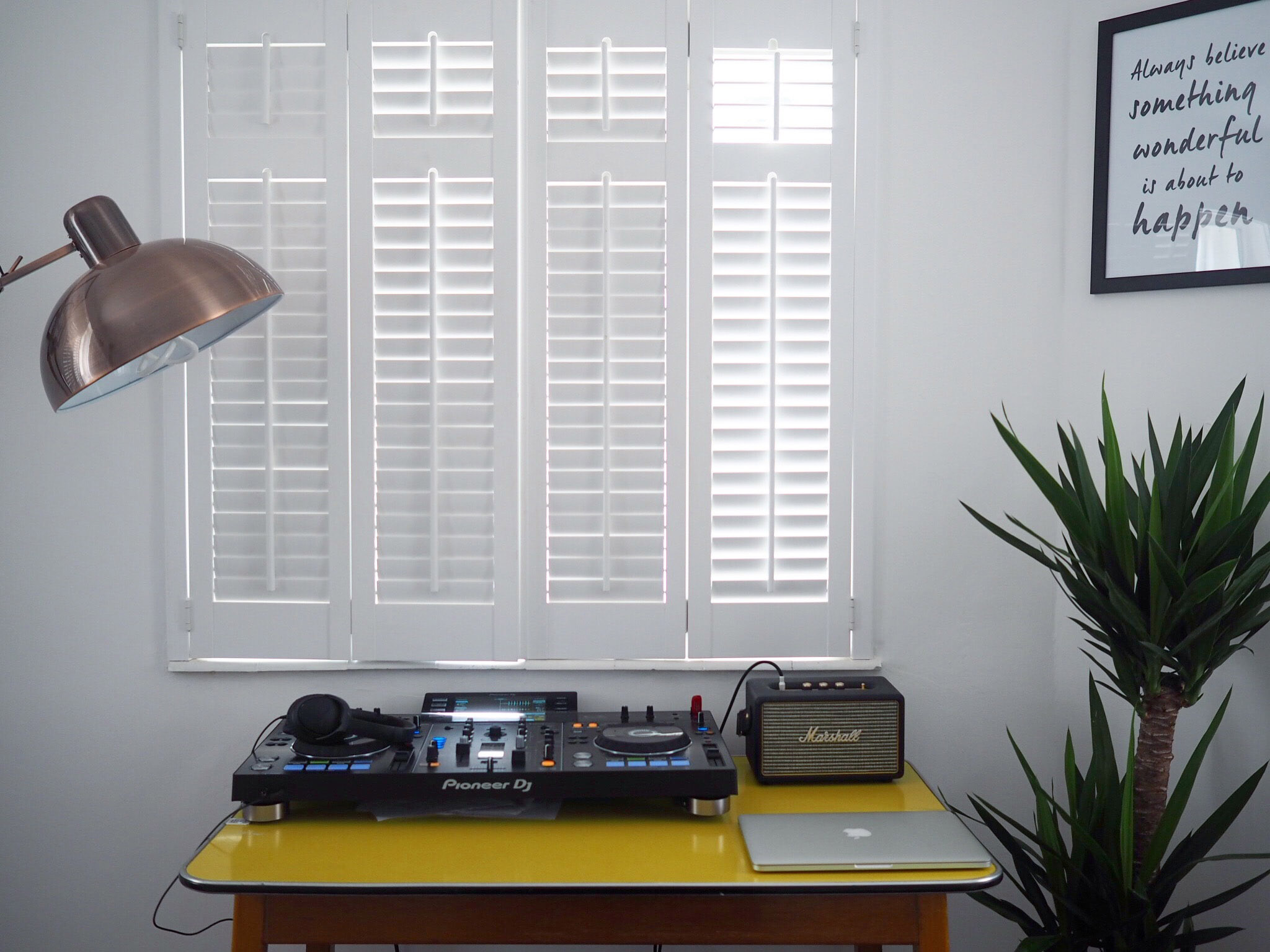 Bed: Made
Bedside table: Made
Mattress: Simba
Bedding: Made
Bed Spread: Made
Cashmere blanket: John Lewis
Sheepskin throw: Barker & Stonehouse
Rug: West Elm
Bedside lamp: John Lewis
Floor lamp: Barker & Stonehouse
Copper Trunks: Barker & Stonehouse
Pineapple money box: Red Candy
Chest of Drawers: West Elm
Book shelf: West Elm
Copper bin: Red Candy
Marilyn Monroe print: Made
Brigitte Bardot print: Made
Light bulb: John Lewis
Candle: Anthropologie
Motivational Prints: Oakdene Design
Oh and if you happen to be wondering about my console for DJ'ing, it's a Pioneer XDJ-RX and is amazing.

I'd love to know what you think of my home? Let me know if it inspires you to make any home purchases.
Speak to you soon,