Coachella seems a lifetime ago now, but seeing as we are well underway with festival season, I thought I would show you guys some of my favourite festival looks from my time in Palm Springs.
This was my second year at Coachella, and being a whole year older and wiser in my experience, I got to enjoy the festival so much more. Last year we stayed in a villa nearer to the festival site, and whilst that sounds ideal, we found ourselves constantly having to travel the 30 minutes up the road to Palm Springs. Those uber bills really racked up, trust me! Most people don't head to the festival site until later in the afternoon, partially due to the heat and partially due to the brand parties that take place around Palm Springs in the day time. Plus, there are some incredible brunch spots in Palm Springs, if you're a foodie like me, especially Cheeky's (which coincidentally is owned by an exes brother!).
Another point to make, is that last year we were told that "literally no one goes to the festival site until sunset, because there are so many cool parties on". Don't get me wrong, this is technically true, and we did go to some awesome day parties, but we didn't chase them around this year, and actually the funnest days we had were when we went into the festival site a little bit earlier. Plus, it's less crowded for you to get those all-important pics 'for the gram'!
My favourite thing about Coachella was definitely watching Beyoncé's performance. From the moment she came on stage I was mesmerised and I felt like I was watching history being made in front of my eyes. People find it crazy that people like me are prepared to travel thousands of miles to go to a festival in the dessert, but it's so beautiful, you have guaranteed sunshine, and always the best lineup. Last year I got to watch Kendrick Lamar the day after Damn was released, and this year I got to see Queen B work her magic alongside Destiny's Child and Jay Z.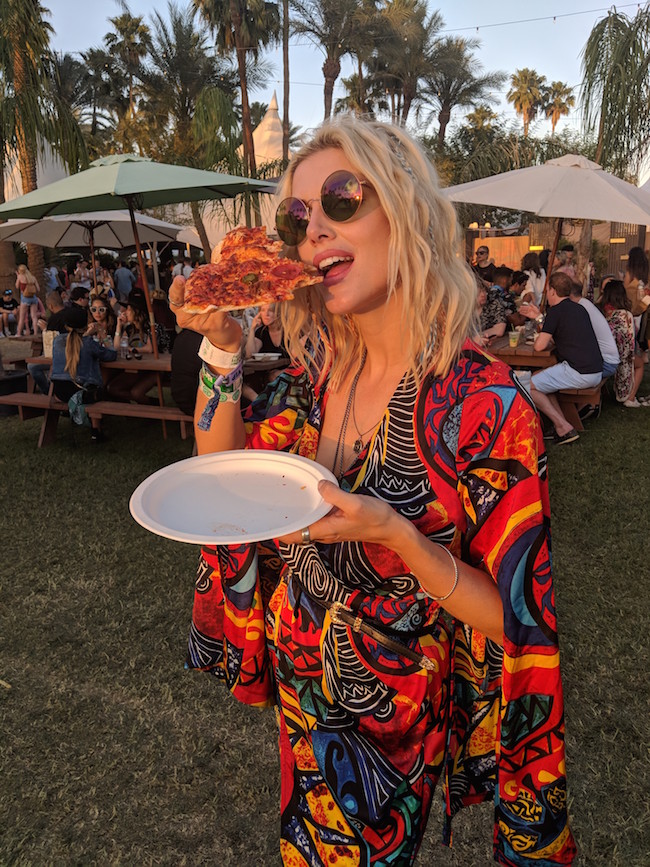 Necklaces: Pyrrah
Top: Lipsy (Sold out. Similar top linked)
Belt: Nasty Gal (Sold out. Similar version linked)
Shorts: Miss Selfridge (Sold out. Similar pair linked)

Playsuit: River Island (Sold out. Linked a similar version)
Sunglasses: Ray Ban
Boots: Pretty Little Thing
Bag: Aspinal of London

I hope this post has inspired your festival wardrobe.

Speak to you soon,
Ashley x