Well hello, and I guess I should begin by apologising for the fact this 5 ways to wear post is well overdue, but it's a good one. I might even go as far to saying my favourite one yet? Plus you can win a pair of Fit Flop shoes of your choice, keep reading for more details and a discount code!
I want to let you know that this post is sponsored, but as always, I only work with brands I genuinely love and everything I write in this post is honest.
I've been subconsciously familiar with FitFlop for years, I mean I see their brand logo everywhere, but I've never really paid attention to it, if that makes sense? Anyway, I recently came across their new campaign as all round boss lady Uma Thurman fronts their campaign and it focusses on SuperWomen. As you probably know, I am a big believer in female empowerment and so I was really drawn into finding more about the campaign and it was then that I discovered how awesome FitFlop is! I am honestly obsessed, so I really hope that this comes across in this post.
Firstly, the brand was founded in 2007 by an entrepreneur called Marcia Kilgore who believed that comfort and style didn't have to be mutually exclusive. Ten years and FitFlop is worn by millions of women across the globe, a veritable legion of superwomen going about their daily business in comfort and style. As someone who is setting up their own brand (watch this space), I always look up to women who have dominated in business.
Next, let's talk about Uma Thurman being the face of the #forsuperwomen campaign. Uma is one of my favourite actresses because of the bad ass roles she played, and also because I always thought she looks like my sister – they have similar eyes. Fit Flop chose her as their leading Super Woman for her strength, elegance and individualism, and she said:
"When I imagine superwomen I think of mothers. I think of all the women who are taking care of their children, their parents and contributing to society, working and providing for their families,"
Brands and campaigns aside, and most importantly, the footwear is incredible! They are SO comfortable, but also look amazing. So I thought I would dedicate a 5 ways to wear post to them showing you some of my favourite pairs and examples of how I would wear them. I really hope this post inspires you to check them out!
I've created a video lookbook for the first time, if you like it then I'll keep doing them on future posts too!
Outfit 1: The ÜBERKNIT™ SLIP-ON HIGH TOP SNEAKERS
Ok, I'm going to be honest, I'm starting with my absolute favourite pair of trainers, the ÜBERKNIT™! They come in so many different colours, but I particularly love these pale pink ones. I wanted to style them with a cute little playsuit so you can see how great they look with legs out. I swear some trainers just don't look good out of jeans, but not these babies! I'm obsessed with the summery feel to them, and they are so frickin' comfortable. I also have them in black though, and I already have my eyes on a white pair!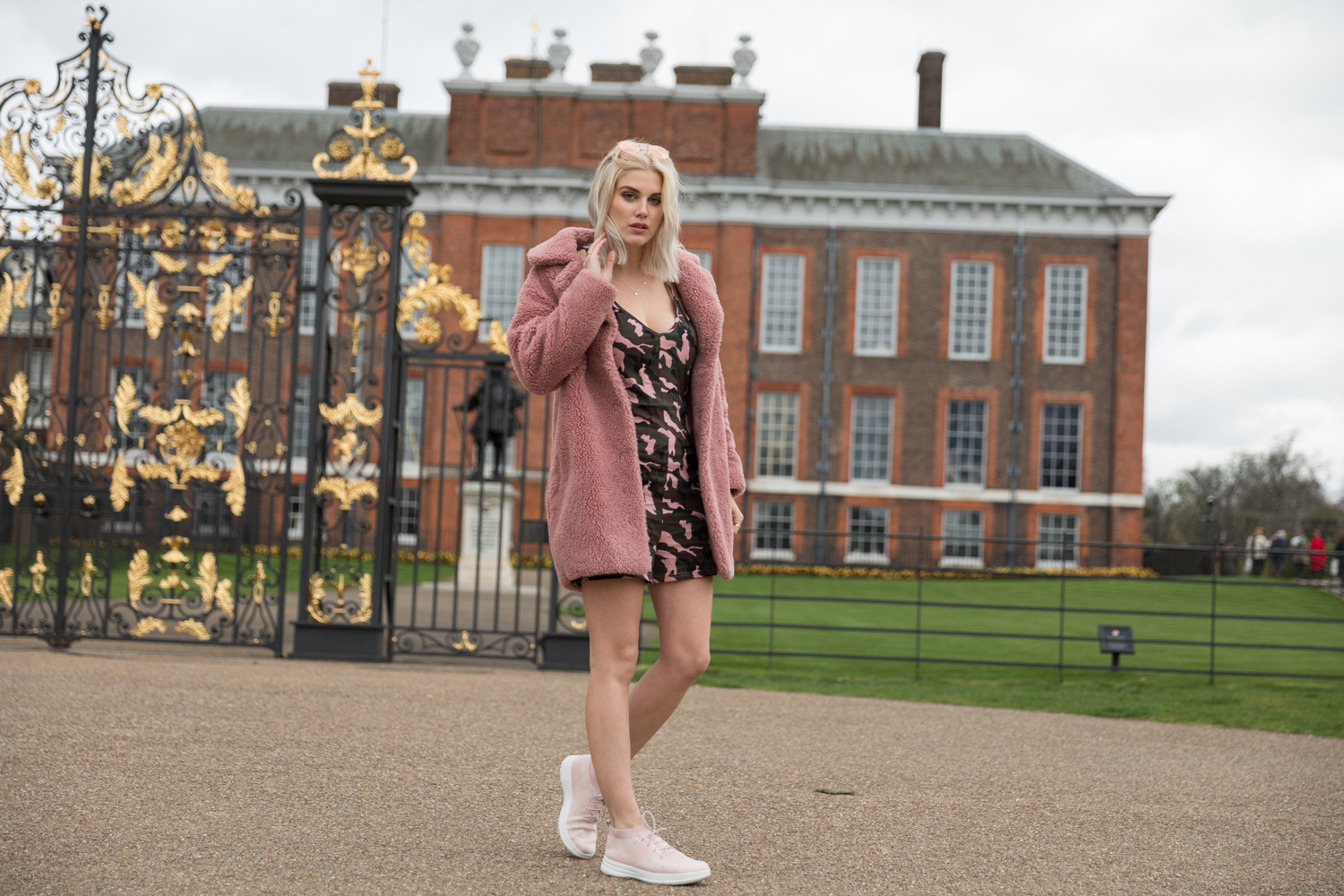 Trainers: ÜBERKNIT™ SLIP-ON HIGH TOP SNEAKERS in Neon Blush / White, FitFlop
Sunglasses: Ray Ban from Net a Porter
Coat: Topshop (sold out, similar here)
Playsuit: One Day

Outfit 2: F-SPORTY™ LEATHER LACE-UP SNEAKERS
I've styled these shoes up with office attire because let's be honest, no one wants to rush to work in heels. I love these shoes as they're so classic and would go with anything. Oh, and did I mention they're comfortable?
Trainers: F-SPORTY™ LEATHER LACE-UP SNEAKERS, FitFlop
Blazer Jacket: New Look
Dress: ASOS
Bag: Pimkie (sold out, similar here)

Outfit 3: LUMY™ LEATHER GLADIATOR SANDALS
These gladiator sandals also come in silver, gold, and black, but I absolutely love them in bronze. I think they give a cool edge to regular sandals. Plus they're way easier to walk in, making them the perfect sandal for city strolls in the sunshine (although as you can see from these photos it was definitely not sunny enough when I shot them!).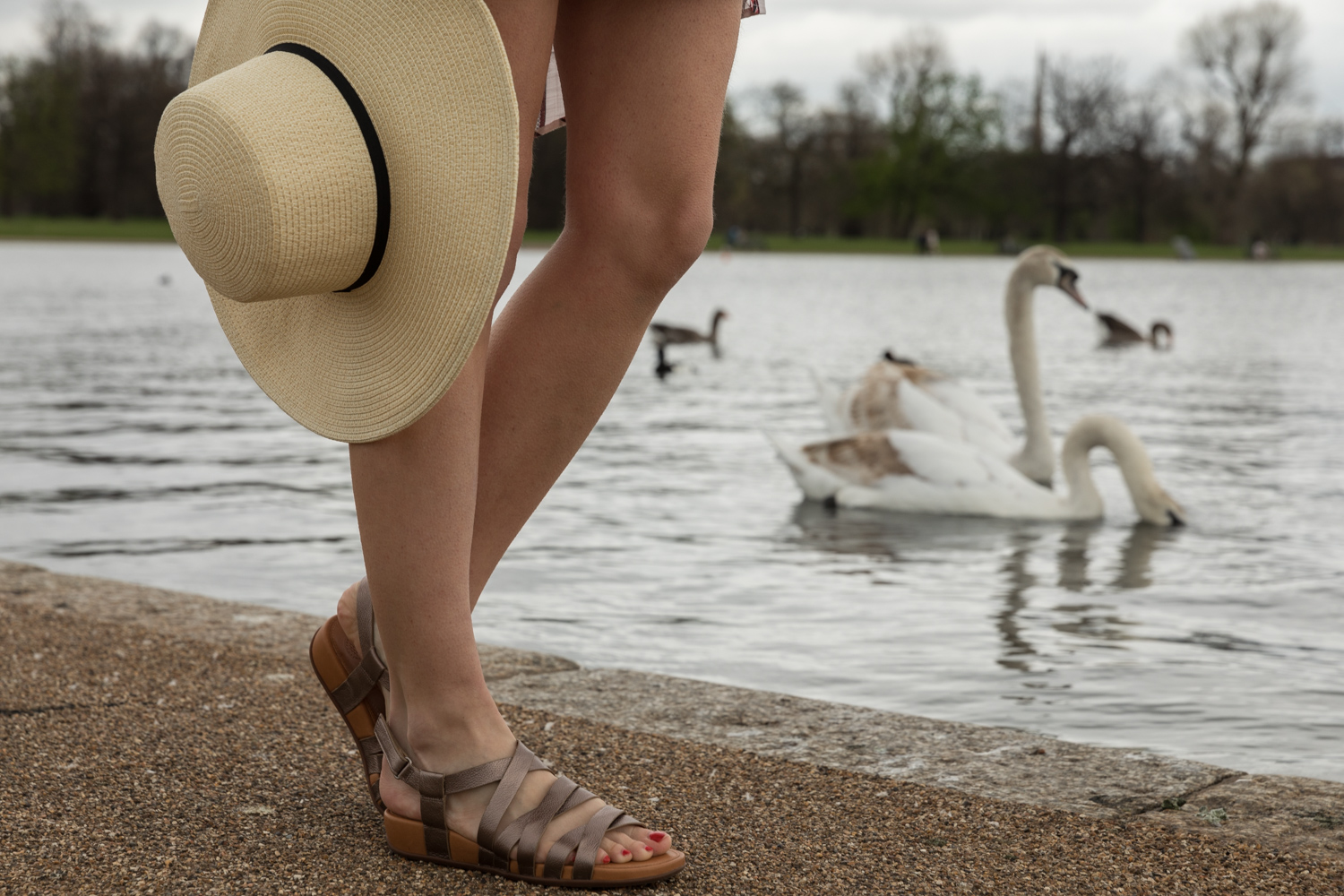 Sandals: LUMY™ LEATHER GLADIATOR SANDALS in Bronze, FitFlop
Shirt Dress: Glamorous (sold out, similar here or here)
Hat: ASOS (sold out, similar here)
Sunglasses: Ray Ban

Outfit 4: SPORTY-POP™ X LIZARD PRINT HIGH TOPS
I love these trainers because they are so different to anything else on the high-street, but also they are so insanely light it's like walking on a cloud whilst your feet are being hugged. They are ideal when you just need to throw on a pair of comfy shoes on the weekend, and they still look cool. I also happened to find THE coolest pub in London in Kensington to shoot in front of – they're definitely good pub shoes!
Trainers: SPORTY-POP™ X LIZARD PRINT HIGH TOPS, FitFlop
Jeans: ADPT (sold out, similar here)
T-Shirt: ASOS
Bag: Radley
Leather Jacket: Mint Velvet (sold out, but I've added a similar)

Outfit 5: F-SPORTY™ LEATHER LACE-UP SNEAKERS – Casual attire
Ok ok, so technically I already shot in these sneakers, but I decided to shoot them again because I wanted to really express my love for them and also show how versatile they are. Here I've styled them to be the perfect casual shoe for a chilled day in the city.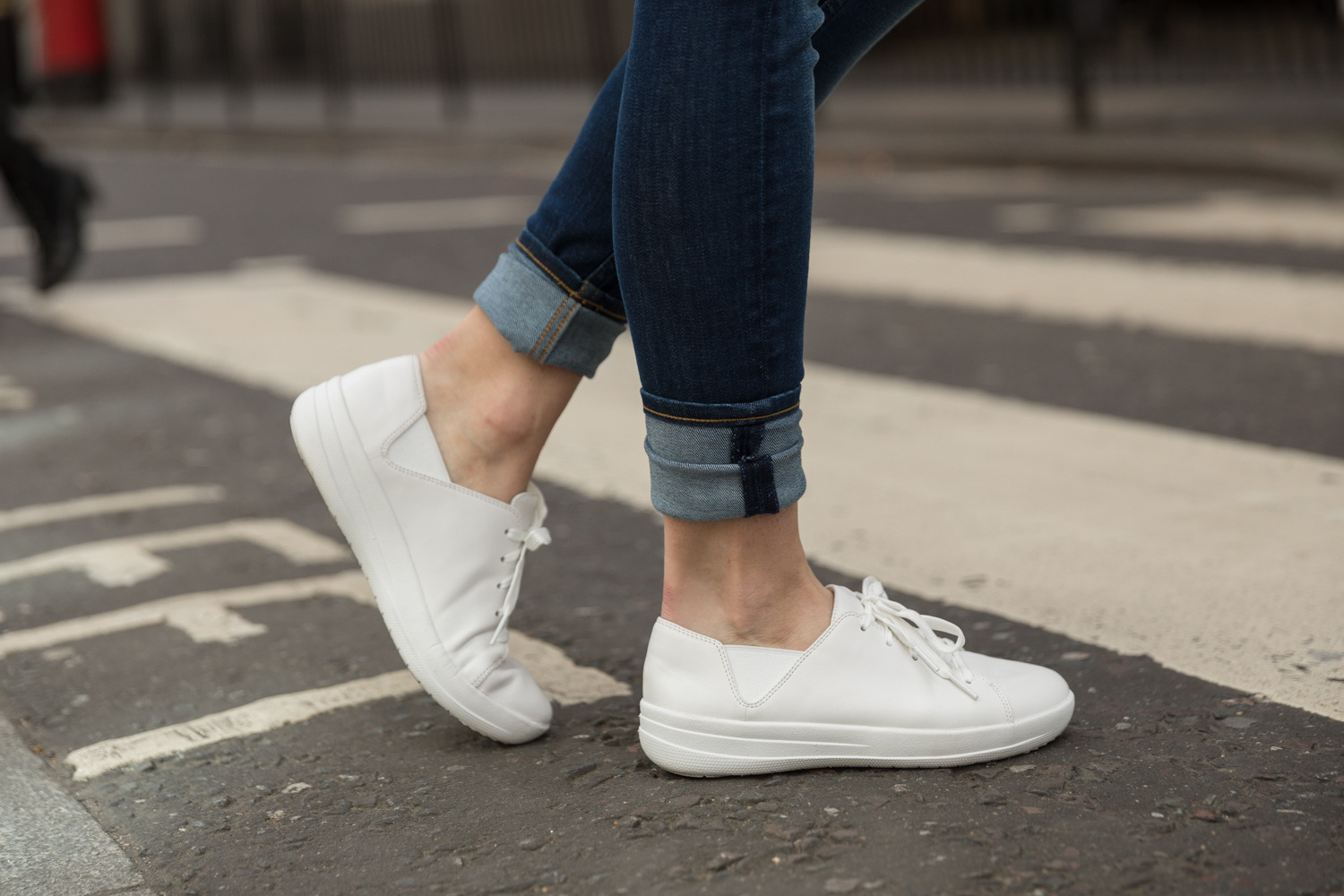 Trainers: F-SPORTY™ LEATHER LACE-UP SNEAKERS, FitFlop
Jeans: Monki
T-Shirt: ASOS
Bomber Jacket: Topshop
Bag: Folli Follie
Sunglasses: Ray Ban

So there is my 5 ways to wear post dedicated to FitFlop, what do you think? I'd love to know which your favourite shoe is? And why? Had you heard of the brand before and has this post inspired you to get a pair? If you do get a pair, post them with the #forsuperwomen hashtag and @ me in it so I can see how you've styled them 🙂
Very excitingly, Fit Flop have let me have a code to give you 25% off – just use SNOOP25 in the checkout. Also, I've managed to talk them into letting me do a giveaway, so if you leave a comment below letting me know your favourite pair of shoes and your favourite outfit and I'll pick a winner on Monday 1st May. Good luck!
If you want to see their full shoe offering or learn more about the brand, check out their website here.
Speak to you very soon (sooner than last time, I promise!),
Ashley xx