It seems like I'm still in a food coma from Christmas day, but I'm already having to think about outfit options for New Years Eve. I don't know about you guys, but I love and hate NYE in equal measure, and this year is no exception.
Don't get me wrong, I always love an excuse to get up, and I love the feeling of it being a new beginning where anything is possible, but the pressure of making New Years Eve the most fun night ever always takes the fun out it for me. I'm sure I'm not the only one who hates organised fun?
Regardless of what you do, stay at home with loved ones, go out on the town with friends - I feel like you still need to see in the New Year in style. And by that I mean your wardrobe, of course!
So if you're looking for New Years Eve outfit ideas then now seems like the perfect time; the sales are on and you can still benefit from online deliveries.
As usual, I've put together 5 outfits that are all a little bit different so if you're looking for that perfect dress, or even if hate dresses, hopefully there's something suitable for you below. But either way, think sequins and glitter, because you're seeing in the New Year and you deserve to sparkle! (Probably the cringiest thing I've written, but I love the sentiment.)
Outfit 1:
If you have followed me for a while, you'll know I have a very unhealthy addiction with copper and so this dress is basically my ideal dress. Admittedly, I'm not the biggest fan of a dress with black tights, but it does stop you from having to be paranoid about revealing too much.
Sequin Dress: Topshop
Tights: New Look
Heels: New Look

Outfit 2:
I know a lot of you always ask for non-dress options, so if you are partial to a pair of trousers then I hope you love this outfit option as much as I do!
Sequin Trousers: Religion
Top: Boohoo
Shoes: Topshop

Outfit 3: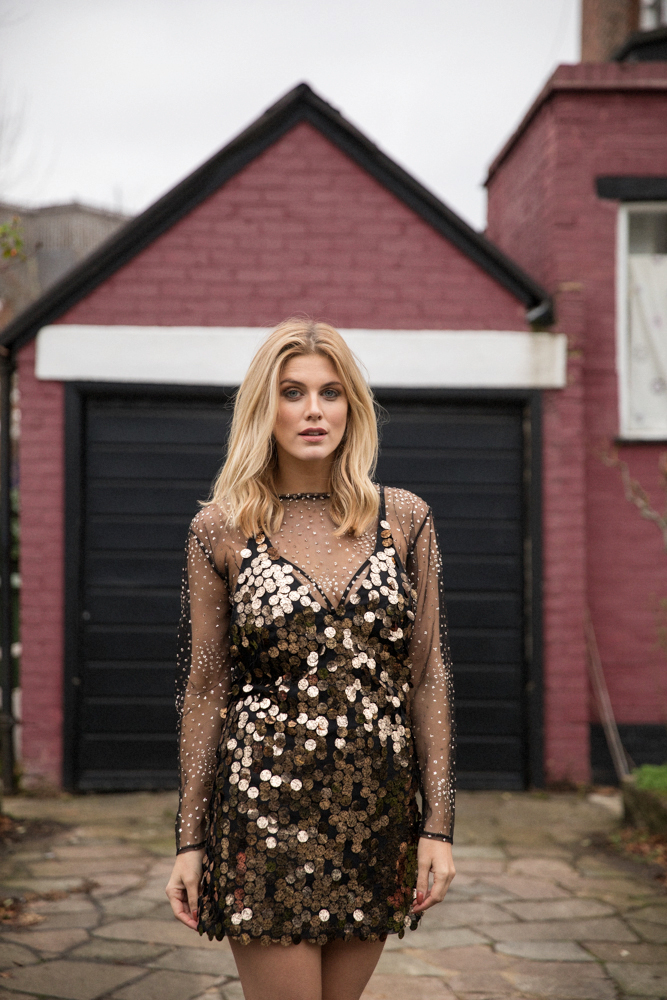 I don't know about you guys, but I think this is my favourite outfit? There's something about black and gold that I love for New Years Eve, plus the dress and top would look equally as amazing on their own. Also, my mum just glanced over my shoulders and said that she loved the heels, so the outfit has her seal of approval too!
Sequin dress: Motel
Top: Motel
Shoes: New Look
Bra: River Island

Outfit 5:
This was actually a last minute addition to my New Years Eve outfit ideas, but I thought it was amazing and another good non-dress option. I have quite a tall body so playsuits can sometimes give me a really bad wedgy (lol to saying that) and this didn't as the material is stretchy.
Jumpsuit: Pretty Little Thing
Silver Heels: Topshop
And there you have it, 5 outfit ideas to hopefully help you decide what to wear on New Years Eve. I do have another outfit options, it's a skirt with knee highs, so if you want to see that too then leave a comment below.
Also, do let me know if you end up taking inspiration from any of my outfit ideas.
Happy New Year so each and everyone of you, and thank you for always come to my site! 🙂