This post is a promotional feature, created in collaboration with Danone Light & Free. As always, everything written in this post is honest and heart felt!
Last Wednesday morning I woke up at 6am, an hour before my alarm I might add, after what was an emotionally exhausting night. I opened my eyes and felt drained. I've had a huge amount on my mind recently as I've moved house, had a lot of work on, and had some relationship drama. For the last couple weeks, I woke up feeling overwhelmed and I'd somehow replaced my morning gym routine with overthinking my troubles in bed for a good 40 minutes.
On this particular Wednesday morning, I woke up like any other, overwhelmed and anxious. Only this was different to a usual day because I had been invited along to a morning rave by Danone, and a few of the girls in my squad were joining me.
I'm not going to lie, the thought of dancing sober absolutely terrified me. I have two left feet when it comes to dancing. Seriously! I can't even do a one step two step without looking awkward. But I put on my gym gear and headed with curiosity to Old Street Station where I was greeted at the door with the most delicious green juice and a cup of coffee. Just what I needed!
Before long, my two left feet were tapping badly to the beat, and I was smiling and chatting away with AJ, Maddie, Pips, Arielle – all from the squad, as well as my friend Em Sheldon. For the rave, we basically had to do a dance routine. At first I was super self-conscious but it turns out I wasn't the only unconfident dancer in the room and we all crashed about and had a good laugh, and I realised it was less about the dancing and more about the fun we had around it. Whilst I won't be joining the Strictly Come Dancing team any time soon, I found myself sad when the dance was over, although luckily not for long because then it was breakfast time and I'd say breakfast is my favourite part of the day. Especially the breakfast that we were treated to! We had delicious Light & Free yoghurt, not just served as a yoghurt but also as an ice lolly, as well loads of red fruits and berries. It was so good.
To top of the amazing breakfast, I got to catch up with the girls whilst we ate. We all chatted about the things on our minds (boys, work, you know – the usual!), and offered each other advice. Before we knew it it was 10:30am and we felt amazing! I couldn't believe that I had woken up only a few hours earlier with dread, as I honestly felt great (and did for the rest of the day). It made me realise that I needed to switch up my morning routine so that I feel as good as I did that morning every morning, and I really have.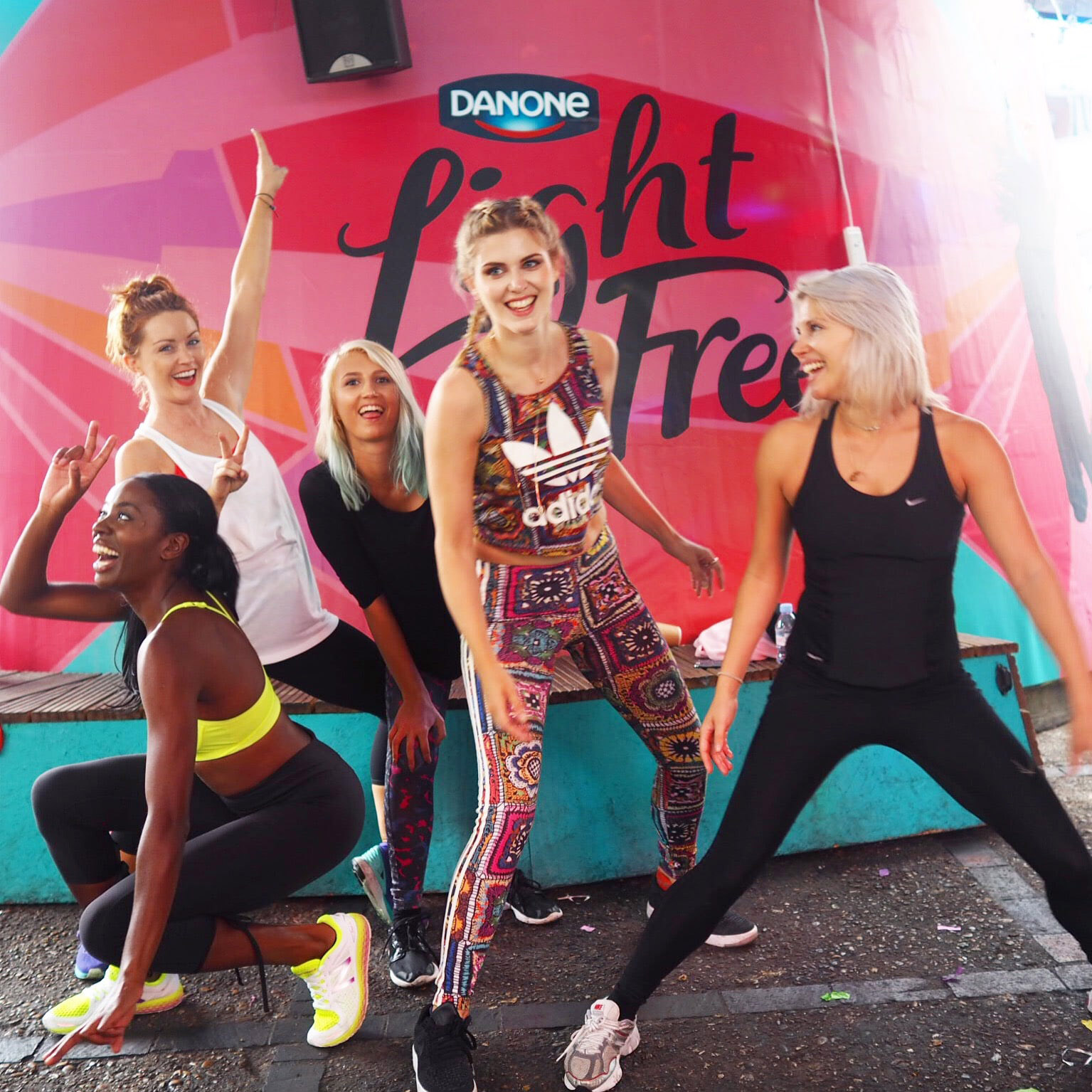 I wanted to share with you the things I've brought into my routine and my top tips for beating the morning anxiety and making sure you have a kick ass day!
Wake up earlier!
I know, I know, sleep is precious! Especially in the morning. If you're anything like me then even those extra few minutes on snooze are precious sleeping time, but SERIOUSLY it's amazing how waking up an hour or half an hour earlier can change your entire day. That extra hour means you can spend more time getting ready rather than rushing around like a crazy person, but more importantly it's precious exercise time, which I'll get to in a moment. Once you are up and awake you feel so amazing! I try and store that satisfying feeling so I remember it when my alarm goes off every morning.
Listen to uplifting music!
Speaking of alarms, I've got rid of my iPhone alarm and I now start my day with the alarm on my radio. It's so much better! I usually listen to Capital Xtra because the music is uplifting and they also give you a bit of music and showbiz news along the way – nothing depressing or negative. I find waking up to good music not only wakes me up better but puts me in a good mood!
Don't look at your phone!
I used to lose a lot of time checking my phone first thing in the morning – there's so many social media apps to check, emails to look at and Pokemon to catch that my phone was draining precious 'me' time and keeping me in bed for longer than I needed to be. Now I try to not check my phone until after breakfast… but before I have breakfast I like to work out!
Exercise!
Probably the best reintroduction into my morning routine is getting up and exercising straight away. I love to work out as soon as I get up because it means that I don't have the thought of exercise looming over me the whole day (you know that "I need to go to the gym" thought that replays through your head as you get sleepier and sleepier?). I like to mix up my exercise routine from Barry's Bootcamp, to a gym class, or a morning run (1 mile takes less than 10 minutes)… Or even a long dog walk with Snoop. Even if you have to force yourself to do exercise, the satisfaction you get afterwards makes it worth it. Especially knowing that it's the time you used to get out of bed!
One thing the morning rave taught me was to never underestimate the power of seeing your friends. So, I will always invite my friends to exercise with me. It depends on people's schedules, but I find working out with a friend is not only more fun but means you have another reason not to bail!
For me, exercise is a great way to gather my thoughts for the day and sweat out any negative or nervous ones – so I feel much calmer at the end of a workout or walk. Plus, it means you deserve a big breakfast!
Take time to enjoy a big breakfast!
It's my favourite meal of the day without a doubt, so there's nothing I love more than having a huge breakfast! Since going to the rave I haven't been able to get enough of Danone's Light & Free yoghurt – and I've been mixing it with lots of seeds and fruit. I'm still craving those yoghurt lollies as well, so next time the heatwave is back I may have to try it out for myself! Oh and I try not to check my phone whilst I eat, so I can really enjoy some me-time before my day begins properly.
Et voila! A happy body and mind before I open my phone and laptop and start my day's work! I can't believe it was just a couple of weeks ago that I was lying in bed dreading my day.
I'd love to know if this post resonates with you – have you done something drastic to your morning routine? If you have let me know what helped you in the comments below as I'd love to know! Or if this post has inspired you to change your day then let me know too.
Have a lovely day and speak to you very soon,