A lot of you have been asking me about the No1 bootcamp I did recently in Morocco, so I thought I would write about my time there. It was such an incredible experience for me, and found it was exactly the kick I needed to get back into a positive lifestyle.
You may remember a post I wrote a few months ago about it being ok to give yourself a break from fitness, if not then you can check it out here. It looked at the fact I had decided to give myself a break from regular exercise and healthy eating, and was really well-received. It was an amazing period, but the problem is it went on for longer than expected, and I never got back into the swing of things. I began to get that looming "I really need to go to the gym" feeling hanging over me. I drank and ate my way through November, December (who doesn't?), and all the way through into the first half of January (what dry January?), and never ended up getting up to run or gym. That's the problem with falling off the wagon for a long period of time, it's very difficult to get back on, and whilst I'm lucky that I don't put on a lot of weight, I felt unhealthy, both mentally and physically.
And so this is why I jumped at the chance to go on my first ever bootcamp! Olivia Cox and I set off for the No 1 Bootcamp in Morocco for seven days of regular fitness and very strict meal plans (and most importantly for me, an alcohol free environment).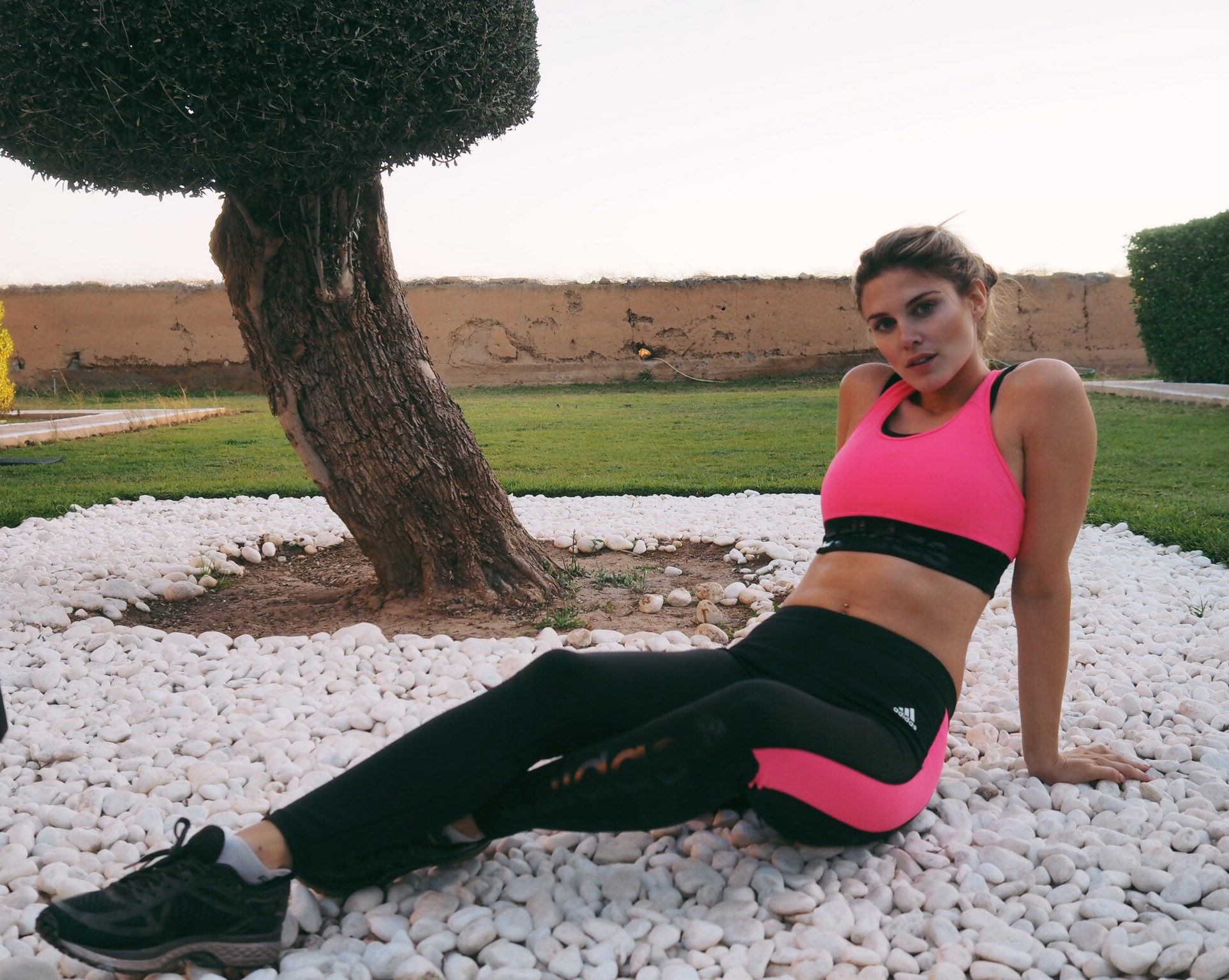 We arrived at the villa on Saturday night and met a lot of the other people taking part in the bootcamp. Some arrived at the same time as us, some were already a few days in, whilst others were about to begin their second week there (crazy people!). We had dinner which was surprisingly filling and delicious before going to bed ready for a dreaded 6:30am start (Gulp!).
If I'm honest, despite us having a very comfy double bed, I didn't sleep well because I was so nervous about what the week had in store (Olivia's snoring may have been a small contributing factor!). I was worried about feeling hungry, and also about not being physically fit enough to keep up, but I needn't have panicked.
Day 1:
And Sunday began, bright and early, way before the sun came out. A day of rest for most, but not for the No 1 Bootcampers. We met our two trainers, Gee and Wilko, both ex-military trainers, who briefed us and weighed and measured us all before we began our workouts.
The exercises were challenging, and I definitely felt like I was earning my meals, but what I loved about the day was that the trainers really paid attention to our forms and took time to show us the correct way to do things. I find often when I do classes I might be doing things wrong (I have really tight calf muscles, so sometimes I can't do things properly, and if this goes unnoticed it could cause injury). It was great that they took time to educate us and work with us individually.
The classes were very varied, from circuits, to HIIT training, to marching, to jogging, to boxing – we did it all, and the variation helped to break up the day.
My favourite part of the day (apart from the food) was our introductory boxing class. If you haven't boxed before, TRY IT! I can't wait to take it up properly, and it is also the best f*ck you to anxiety.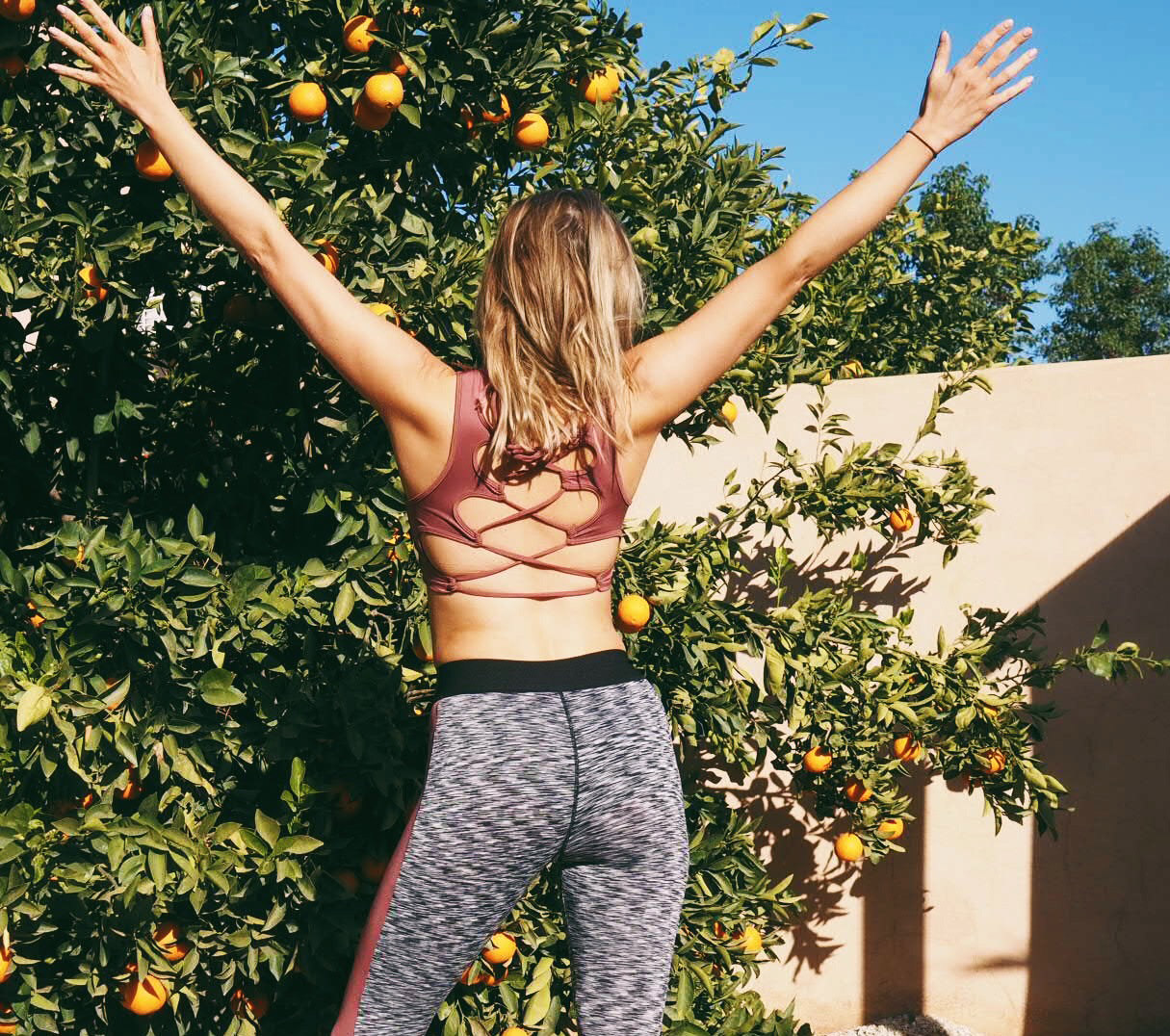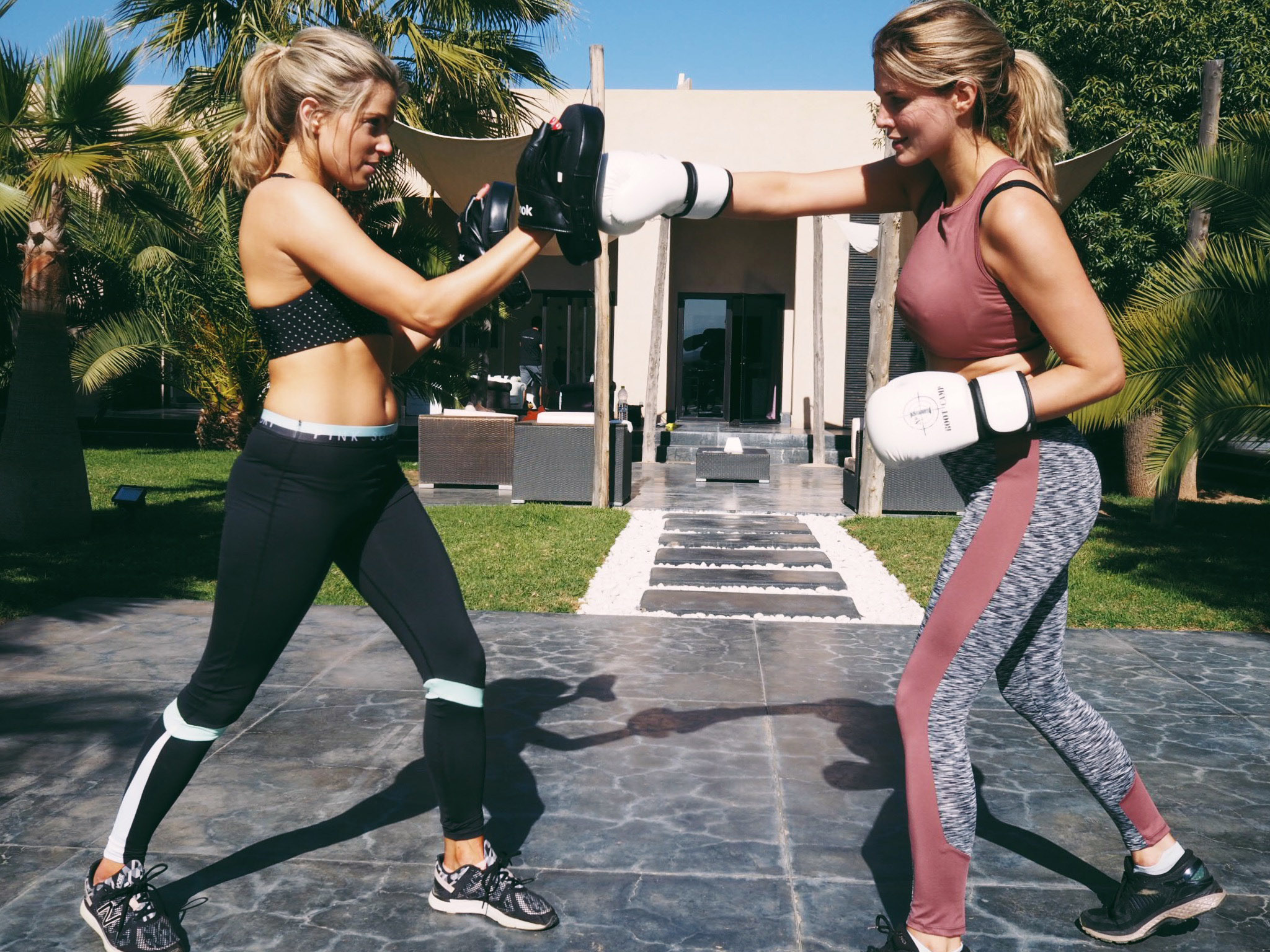 Day 2:
I woke up slightly stiff on the second day into the FREEZING cold ready for a very intense morning of circuit training. The sun doesn't come up until 9am in Morocco at this time of year, and every part of my body wanted to avoid the cold and avoid exercise, but two workouts, a snack between and then breakfast as the sun rose made me remember how amazing getting up  can make you feel. Before bootcamp, I'd been lying in bed at home for a couple of hours in the morning worrying about all the things I have on, and it's inspired me to get back into my routine of morning workouts. We had another boxing session before lunch, where I enjoyed screaming the names of exes (lol), and then we had a more chilled walk and were taught all about core strength. Dinner wrapped around 7:30pm so then we chilled out and watched a film before falling asleep by about 9pm.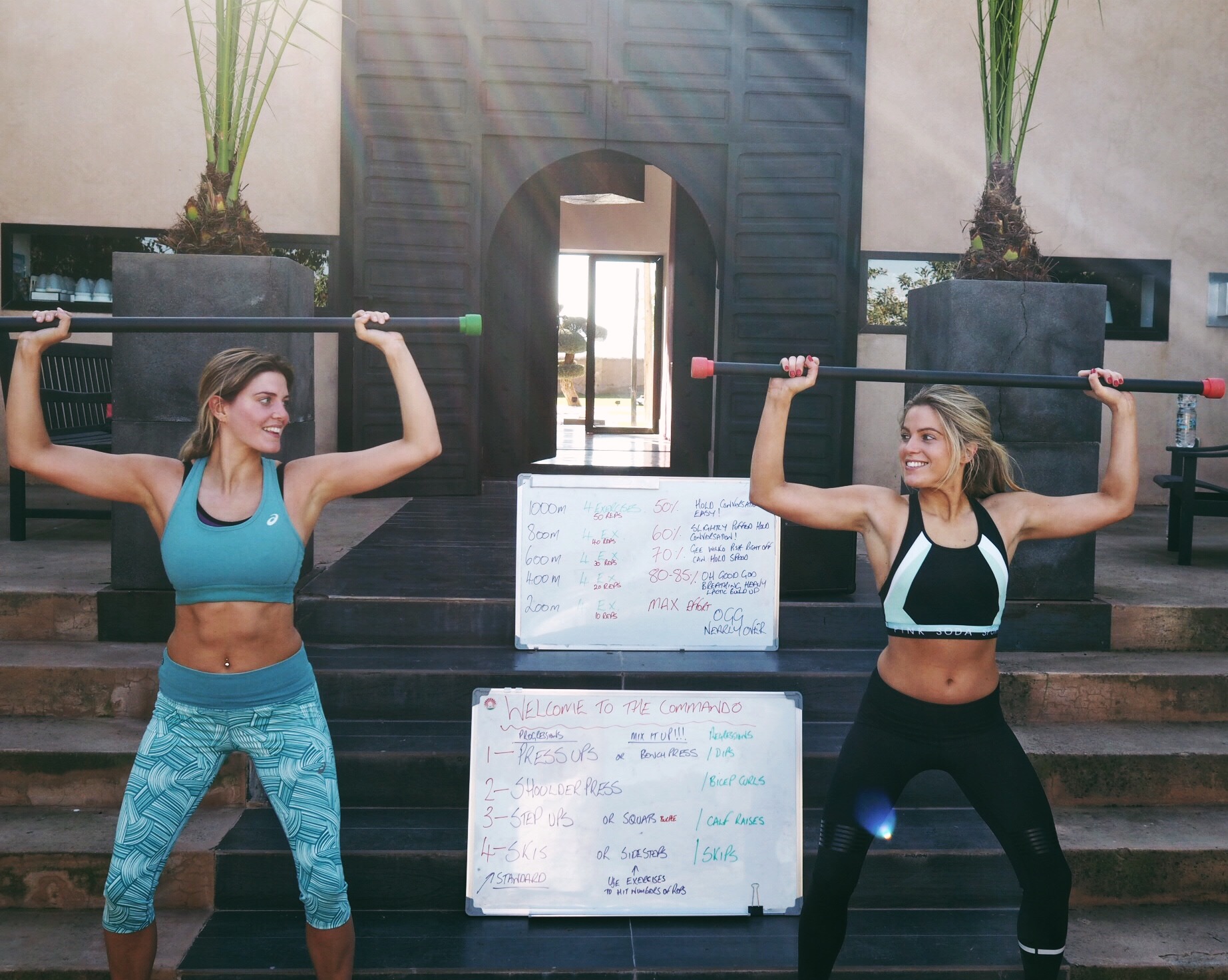 Day 3:
Despite waking up so stiff I felt I couldn't even walk (never mind do a workout), another day of exercise commenced. The day followed the same routine as the others: waking up for a snack, then a class, breakfast, then a class, a snack, then a class, lunch, then a class, a snack and then a chilled out class before dinner. Wow! Even writing this sounds so extreme, I can't believe I managed this. But I did, and so did everyone else, and dare I say we even had fun doing it!
In the afternoon, we went on a marching tour outside of the villa and Gee and Wilko taught us how to march properly. Little fact: the reason they march in the army is so that the footsteps are synchronised so the enemy wouldn't be able to tell how many people there are. I enjoyed that fact, so thought I'd pass it on.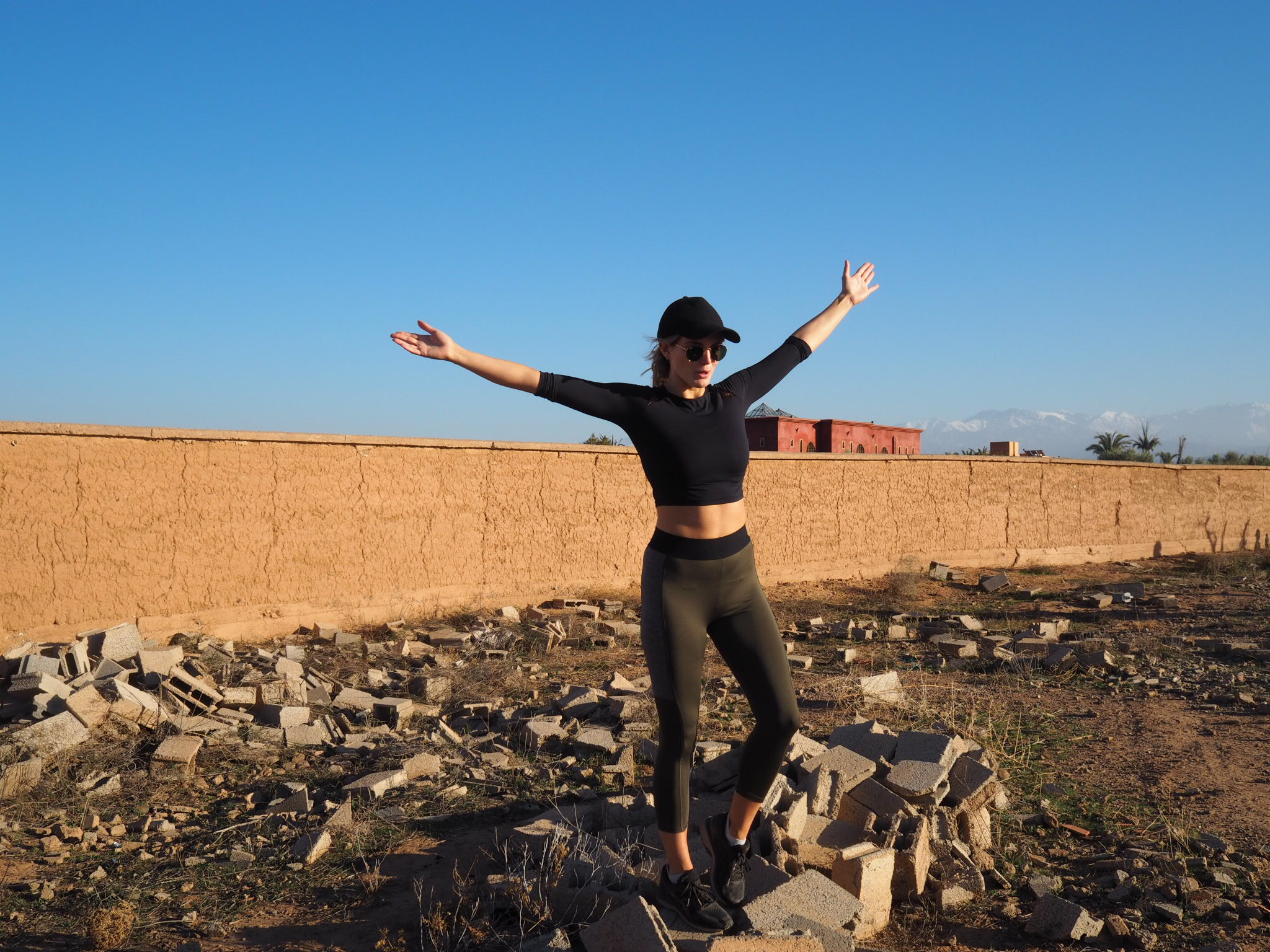 Day 4:
I woke up on Wednesday with so much energy, I honestly don't know what happened to me! I felt excited to exercise, and by this point I was a total boxing addict. We did some really fun team exercises, and got to go on a really long hike into the local village. It was really nice to discover a non-touristy part of Morocco and there were some really beautiful sites, plus we got to spend time chatting to each other as we walked. I loved the hike, as it still counted as exercise but was more of a break.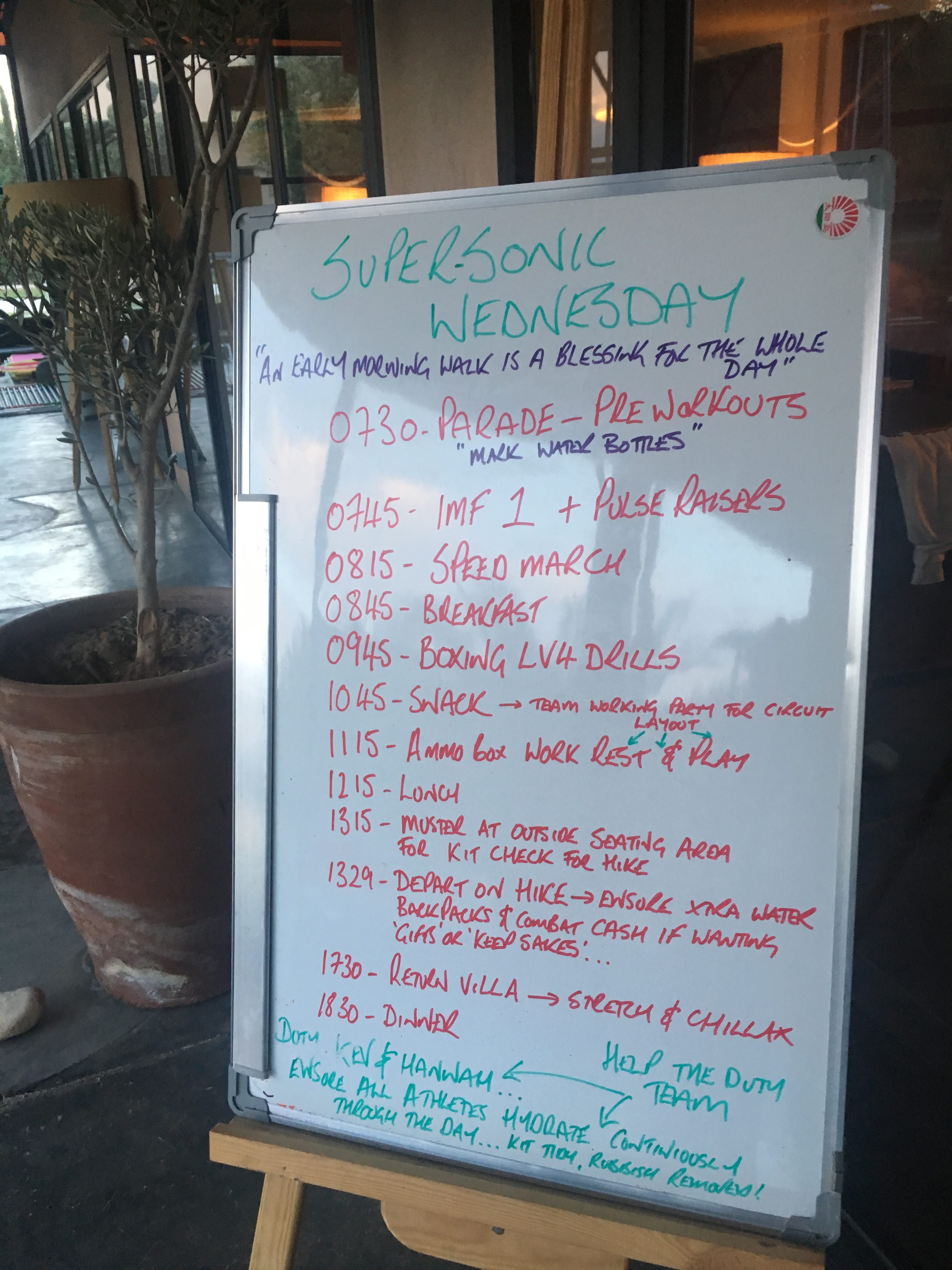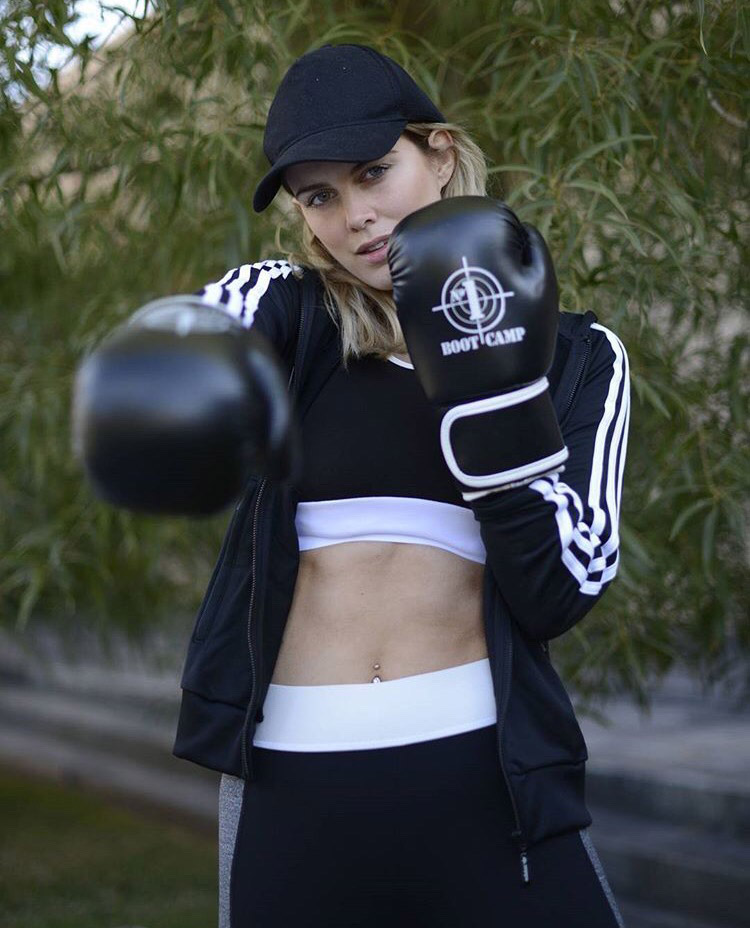 Day 5
By the time Thursday arrived, I woke up before my alarm and actually felt excited to get out and exercise. It was crazy to think about the mental transformation from the beginning to the penultimate day!
In the afternoon, Wilko also educated us all about the importance of, and different ways of stretching and proprioception – which is basically some intense stretch! Haha, sorry Wilko for the awful description. It was really useful, as I now have a good set of exercises I can do alone or in a pair to work on the areas of my body that need it.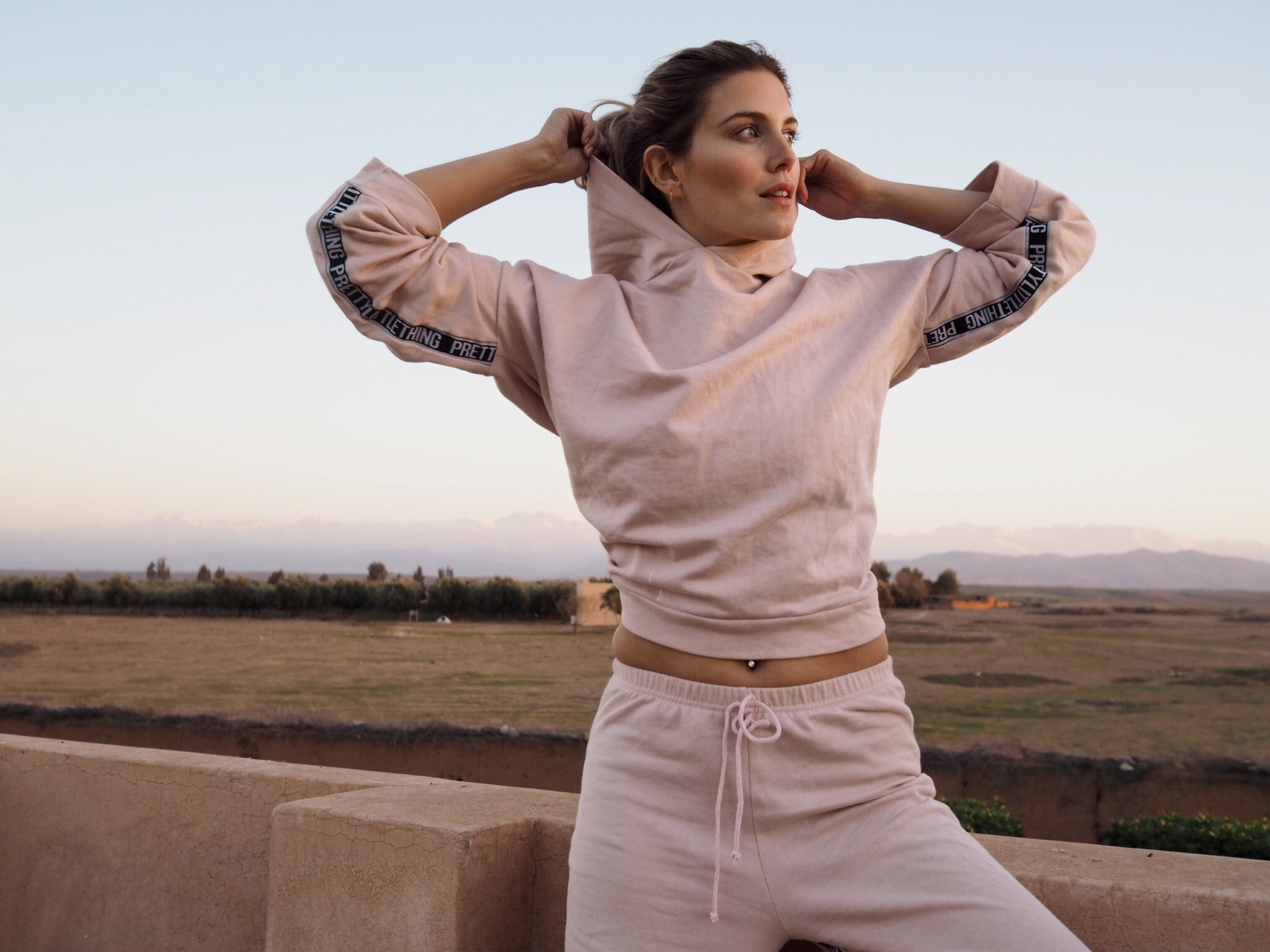 The Final Day
Olivia and I woke up on our final day feeling devastated the week had come to an end already. We both felt that our moods and motivation had completely changed during our time at bootcamp. For me, this transferred to other parts of my life. I bought a weekly planner and a to do list notebook, and also invested in tuppaware so I could be more organised at home with my meals.
We did a morning of exercise, and then after lunch we were educated by Gee on nutrition. I usually eat relatively healthy and didn't think I would learn much from the talk, but I was really wrong. Gee told us about the type of food we should eat at different times of the day, as well as educating us on the different food types and portion sizes.
We then got the afternoon off, so we got to explore Marrakech, which is just so visually pleasing! If you go there, just be aware of the difference in culture. You have to barter for everything, which is quite unusual for me as a Brit, but you have to be quite assertive so you don't get ripped off!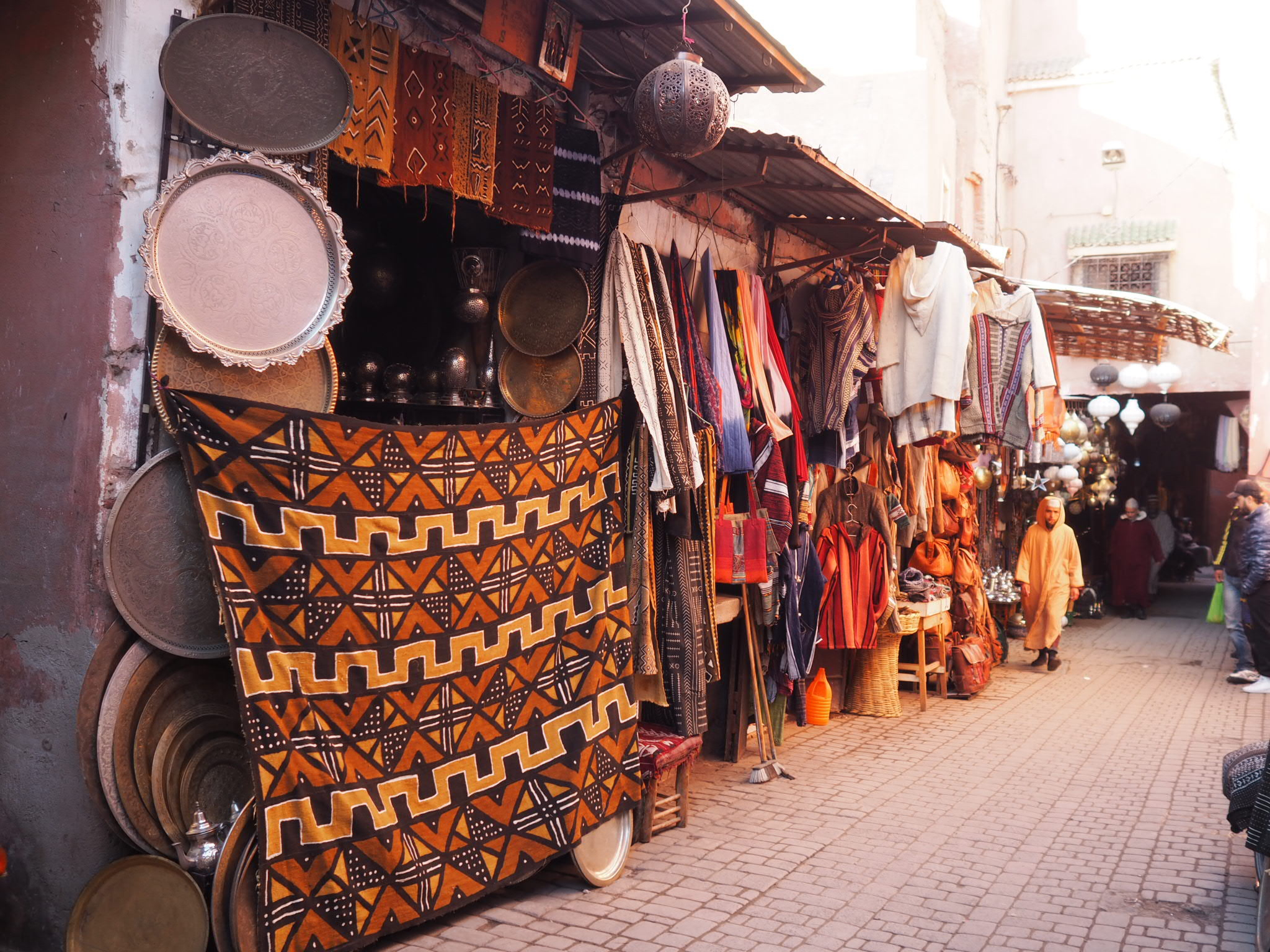 The Exercise
To break it down, expect a very varied range of exercise at No 1 bootcamp. I loved the variation as it broke up the day really nicely. Each session is around 45 minutes or an hour, apart from the walk, which takes around 4 hours (including time to snack). We did a range of activity from running, to marching, to doing team exercises, weights, HIIT training with lots of planks and sit ups, and my new favourite hobby, boxing.
The Food 
I was so nervous about getting rabbit portions of prison food, but honestly the food at the bootcamp is out of this world, and you eat so regularly I never felt hungry – although I must admit it was hard to not have sweet treats after meals. There is a professional chef on site and the food was really amazing and completely different every day. We had chicken, fish, salads, soups, fruit, nuts – I took so many photos as I wanted to recreate the meals at home.
If you have any dislikes or allergies you can let them know when you go and they can make alternative meals.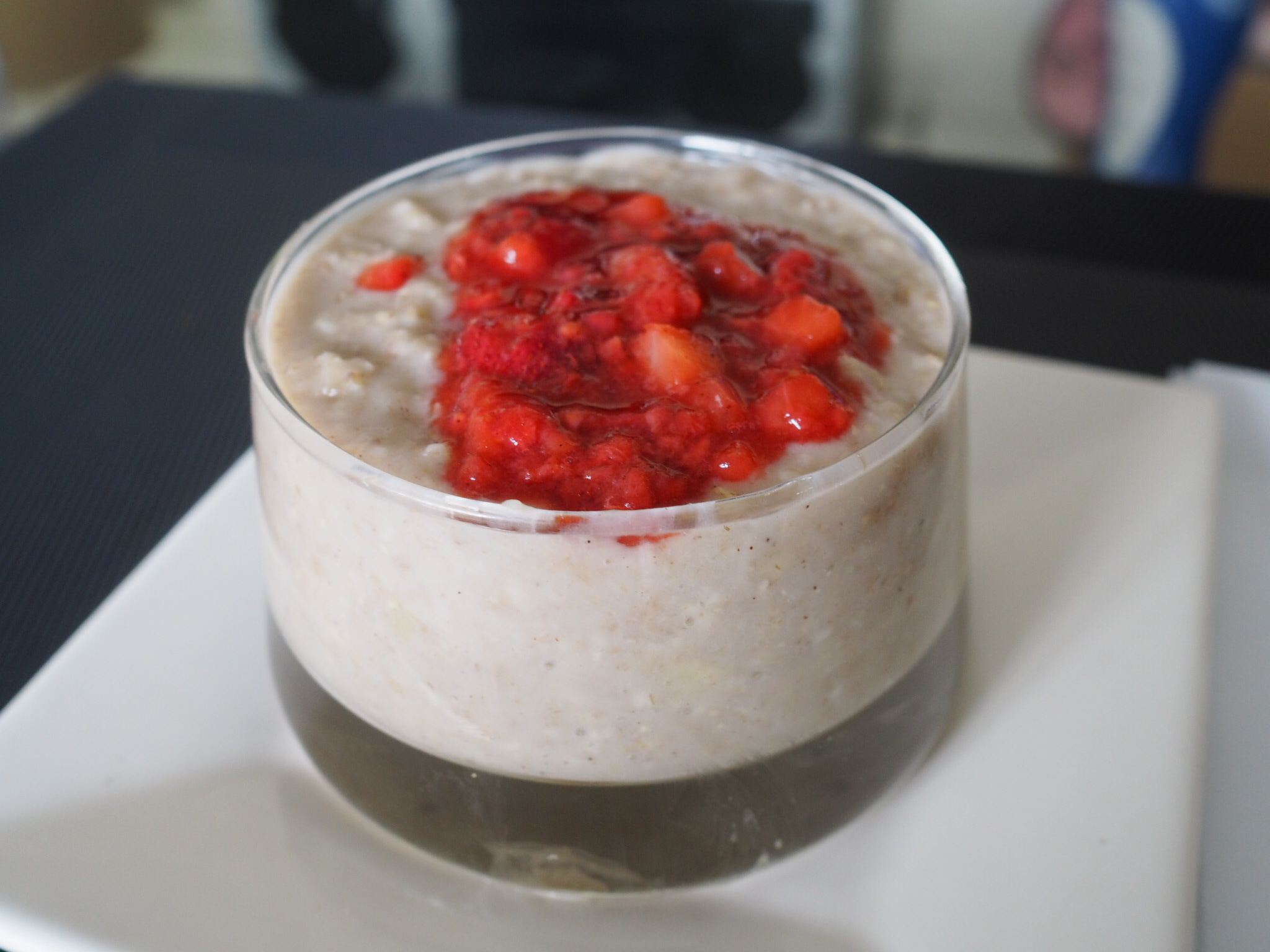 The Villa
The villa is really stunning and very remote as it's about a 30 minute drive from Marrakech. You're surrounded by nature (expect to hear donkeys) and it has stunning views of the Atlas mountains. Some people stay in posh tents, and others stay in rooms. Olivia and I shared a room which was really spacious, had a big bathroom, an open fire, and our own private garden area which had an outdoor bathtub! We were so excited by this! There is wifi in the communal dining area and living room (and in some of the rooms, but to be honest, I loved that it didn't stretch to mine), which is also really cosy and warm.
There was a swimming pool, but the water was really cold, so I wasn't brave enough to use it!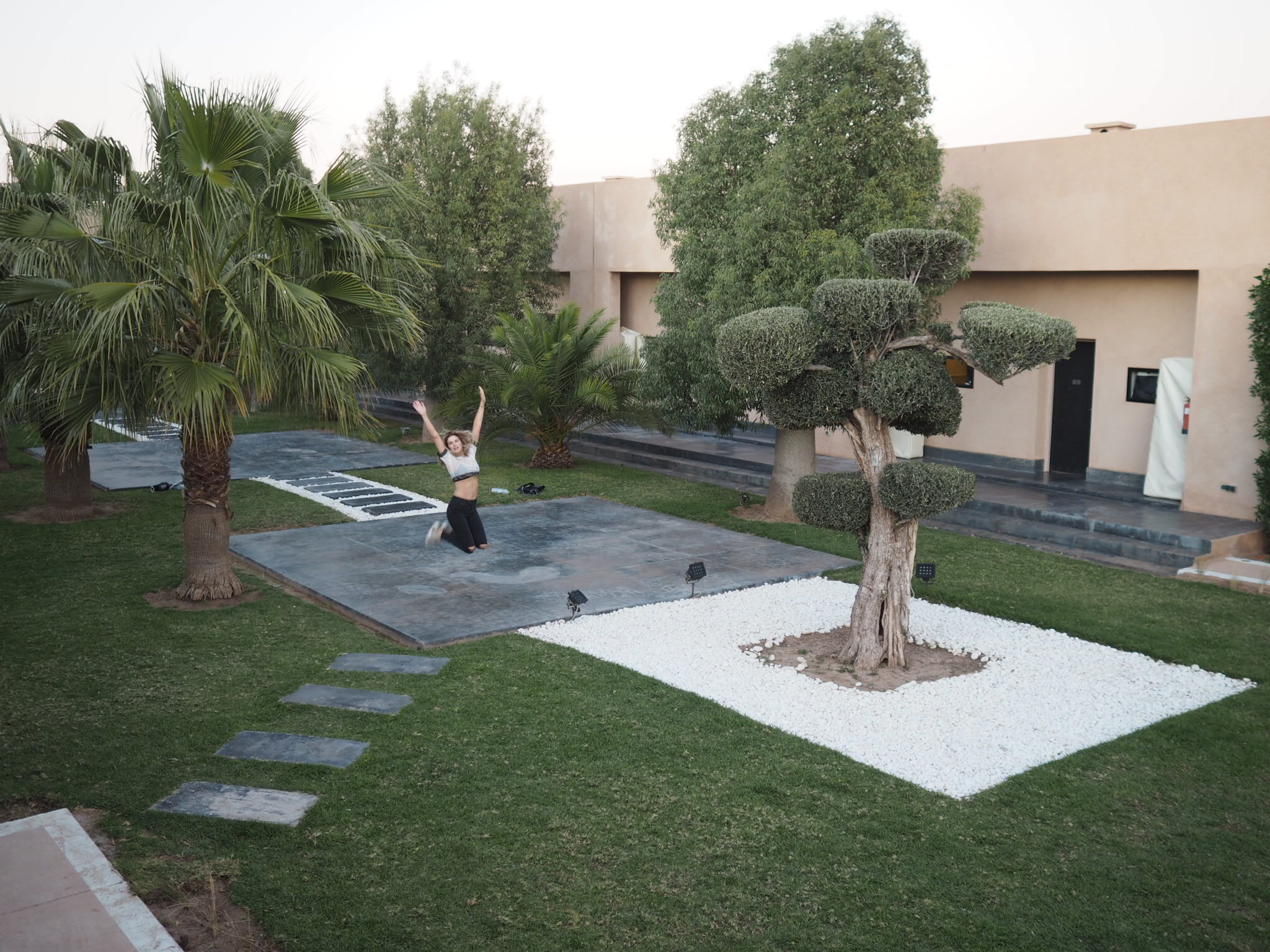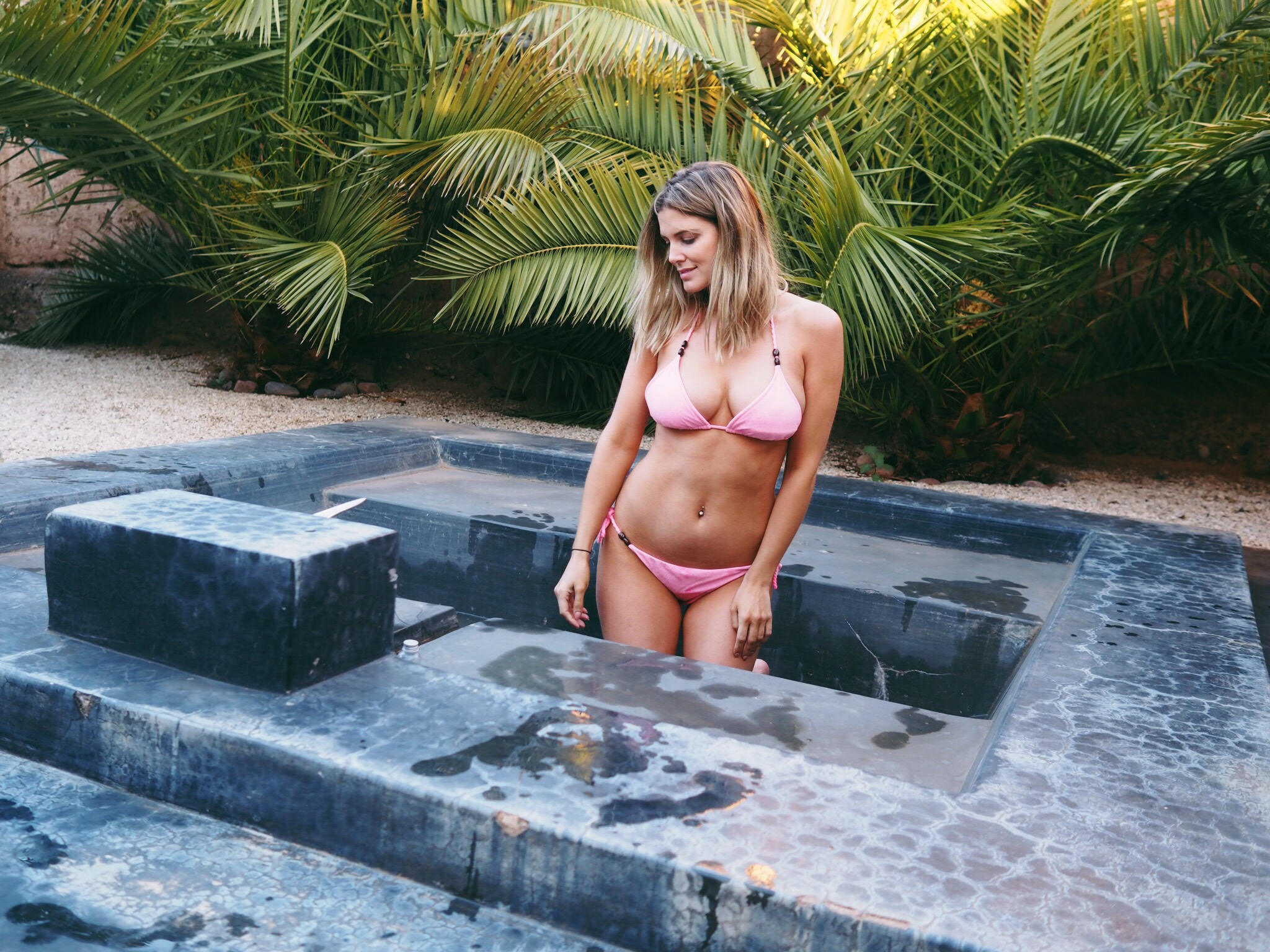 The people
The folks at No 1 Bootcamp are amazing. They are very supportive and understanding of people's different abilities, and I never felt intimidated.
What really made it for me though were all the people I did my week with. There were people from all over the world, of varying ages, and varying fitness levels. We became a little family and discussed love and life together – it's actually amazing the deep conversations we would have after dinner. We still have a whatsapp group and message each other all the time. It's very special, I would have no qualms about going there alone, although of course it's way nicer with a friend.
Ability levels
I thought it worth finishing with the ability levels in case you are wondering if you would be fit enough to go on a bootcamp. Trust me, it's amazing no matter what you want to achieve. I would say that Olivia and I are naturally very fit, and we found it challenging and also lost inches and weight in the week (sustainably may I add, it's not like one of those places that starves you for results, they really give you the tools to leave and sustain it!).
There were other people there who came on the bootcamp to lose weight and who were not naturally fit, and it was so amazing to see their progress. So if you are stuck in a rut and feeling lost  with how to do exercise or eat healthily, then the bootcamp would be amazing for you!
Anyway, I hope you have found this post useful. If you have any questions then let me know in the comments and I will get back to you. I've already booked to go on No 1 Bootcamp in Ibiza in March, so I might see you there! 🙂
Speak to you soon, xx
Details: http://www.no1bootcamp.com