With the colder weather I wanted to show you 5 ways to wear velvet. There's something about velvet that makes cold weather feel almost acceptable. It makes me feel all festive, looks amazing, and even has a practical element with it being so warm! Win, win!
I thought I'd focus this week's 5 way to wear series on how to rock the velvet trend, and in doing so I've discovered so many brands I wasn't so familiar with before. I particularly love Bershka and Pull & Bear's current collection.
Outfit 1
I love this very rocky casual outfit, I think the choker and velvet bomber and boots make it look dressier so you could get away with wearing it out. The distressed black denim jeans works really well to break all the colour up to. I'm not going to lie, I don't know any Iron Maiden songs, but I love the T-Shirt regardless – and these band T-shirts are also a big trend at the moment!
Bomber jacket: Pull & Bear
T-shirt: Pull and Bear
Jeans: Levi's 
Blue velvet boots: New Look
Click on any of the images below for more details:
I've also added similar items at different price points below:
Outfit 2:
Velvet on velvet! I'm such a big fan of over-the-knee boots, and I've recently discovered a good tip to make sure they stay up – tit tape! I love how the embellished choker and net tights break up the dress and boots.
Green velvet dress: Pull & Bear 
Fishnets: ASOS
Boots: Very.co.uk 
Green bomber: PLT
Choker: New Look
Here are some other similar items:
Outfit 3:
I think this burnt orange dress has to be the perfect Autumnal shade, and I love how it works with the metallic boots!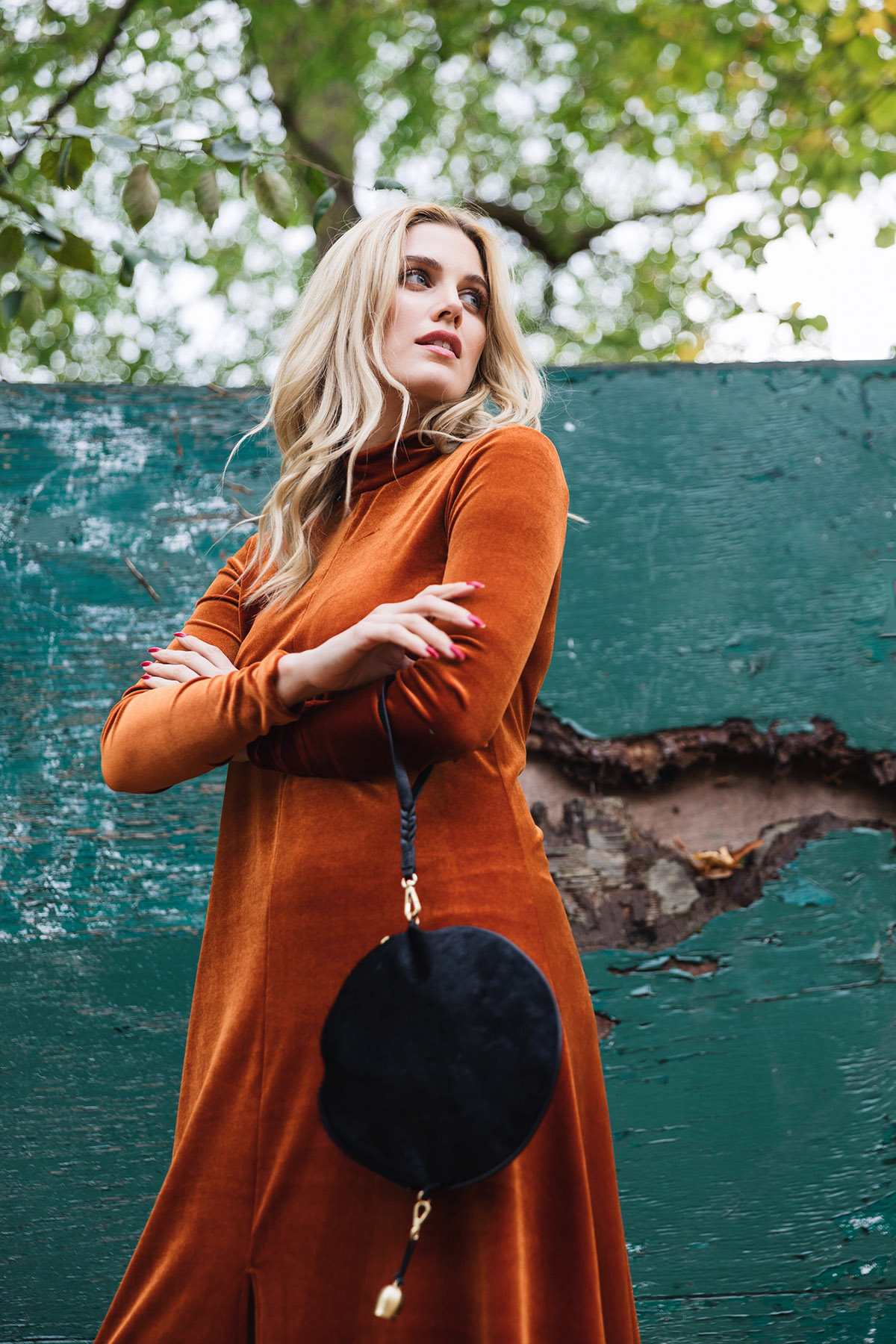 Orange dress: ASOS
Boots: Very (similar here)
Bag: Bell & Fox
Or get similar here:
Outfit 4:
Ok, this red jacket is the warmest, comfiest thing I've ever worn. It's like wearing a sleeping bag! I really enjoy the clash of colours between the coat and bottoms, and the trainers are so comfortable too.
Red coat: Pull & Bear
Top: PLT 
Trousers: Marc Cain (similar here)
Trainers: Asics
Or get similar looks here:
Outfit 5:
My final outfit is another double velvet look. I love how wearing the mesh top underneath the dress makes the outfit more interesting. Plus you can never go wrong with an all black number!
I hope you love these outfits as much as me and they inspire your winter wardrobe – you can like this post or leave a comment to let me know! Which is your favourite outfit? I think mine has to be the orange dress! I'd love to know what you think. My next 5 ways to wear post will come out next week, do let me know if there's a particular trend you'd like me to tackle next.
I also wanted to say that my hair and makeup was doing by the awesome team at Secret Spa (a London based beauty app) – thanks to them and to Oscar May for his awesome photography!
Speak to you very soon,