Let's be honest, we've all spent the day in gym clothes and not even gone to the gym, am I right? It's fair to say that ath-leisure is a HUGE trend, and shows no sign of leaving any time soon. It's fair to say it's one of my absolute favourite trends, and I love contrasting sporty and feminine pieces. There's nothing better than being able to wear a tracksuit all day and it count as fashion! So with all that in mind, I thought I'd show you 5 ways to wear sports fashion in this week's series.
Outfit 1
I feel like this is the ultimate festive outfit – I always love wearing metallics over the Christmas period, and I can't believe this skirt is off the high-streeet!The over the knee boots are amazing and always get so many compliments when I'm out and about – but make sure you tit tape them to your legs to stop them from falling down. I love the ruffles on the ribbed jumper – it makes it a bit more interesting and feminine.
Perforated Jacket: Joseph Ribkoff (similar here)
Top: Pull & Bear 
Trousers: Pretty Little Thing
Shoes: Attribute
Click on any of the images below for more details:
Outfit 2:
I am completely obsessed with this metallic bomber – how amazing is the blue faux fur collar? I'm also pretty obsessed with my dog's posing efforts; ten out of ten Snoop dog!
Silver Bomber Jacket: Topshop
T-Shirt: Pop See Cul
Skirt: Pretty Little Thing
Shoes: River Island (similar here)
Outfit 3:
If you saw my post on 5 ways to wear ruffles last week, you'll have noticed I'm obsessed with these sheer dresses, and I love how it adds a more feminine touch to the oversized hoody.
Grey sweater: Bershka (in store but not online)
Sheer dress: Bershka
Grey boots: Primark (not available online, but find similar below)
Outfit 4:
I love the colour of the trousers in this outfit – it's always nice to have a pop of colour when most other people are wearing black. Also, can we take a moment to appreciate this fur jacket – it even has the A for my name! I came across these Adidas NMD trainers one morning when I was browsing instagram in bed, and ended up queueing on the Offspring website, as they were a limited edition colour that had just been released.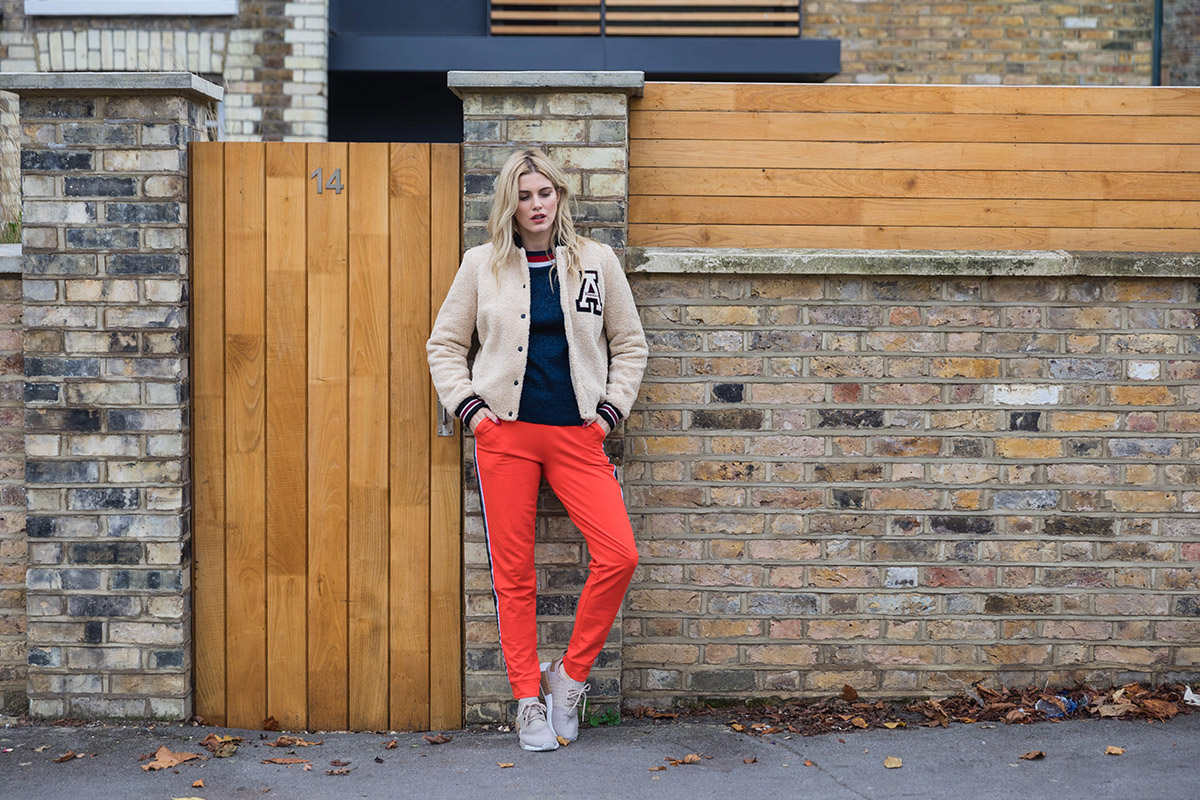 Jacket: Pull & Bear
Trousers: ASOS
Navy top: Dorothy Perkins (most similar here)
Trainers: Adidas (limited edition from Offspring)
Outfit 5:
One of my favourite trends that I keep seeing on the Kardashians is an oversized hoody with knee-high boots – it's so simple, and comfortable yet looks great. I appreciate it's probably a love or hate outfit though. I am obsessed with these lace up boots, and they stay up above your knees.
And there is this week's sporty 5 ways to wear. As I mentioned, I really love this trend so would love to know what you thought of the post. Which is your favourite outfit? I'm going to say that mine is the oversized hoody and boots.
I also wanted to say a quick thank you to Secret Spa for my hair and makeup. If you don't know them they are a London based beauty app who come to your house to do your makeup, nails, fake tans – pretty much everything. Oh and thanks to Oscar May for all the photography too.
Speak to you very soon,