I recently got back from the most amazing trip to Barcelona, where I got to visit La Roca Village, the Spanish equivalent of Bicester Village, where I got to do some serious shopping and check out the Barcelona Designers' Collective pop-up.
I'd visited Barcelona before, and although I had a good time, I never knew what a cool and vibrant hub it is for art and fashion. I had such an incredible couple of days exploring the designer shops at La Roca Village that naturally I had to share my experience with you.
La Roca Village
Like I said, La Roca Village is similar to Bicester Village for those of my British readers who are familiar with the joys of designer shopping at affordable prices. The Village is located about 40 minutes from Barcelona, and is so beautiful and picturesque, it made me realise that I need at least one rose wall in my life immediately! More exciting than the roses, are the vast quantity of high end boutiques to shop in – I spent hours going through Burberry, Gucci, Vivienne Westwood, La Perla and so many more, I think there's over 130 boutiques.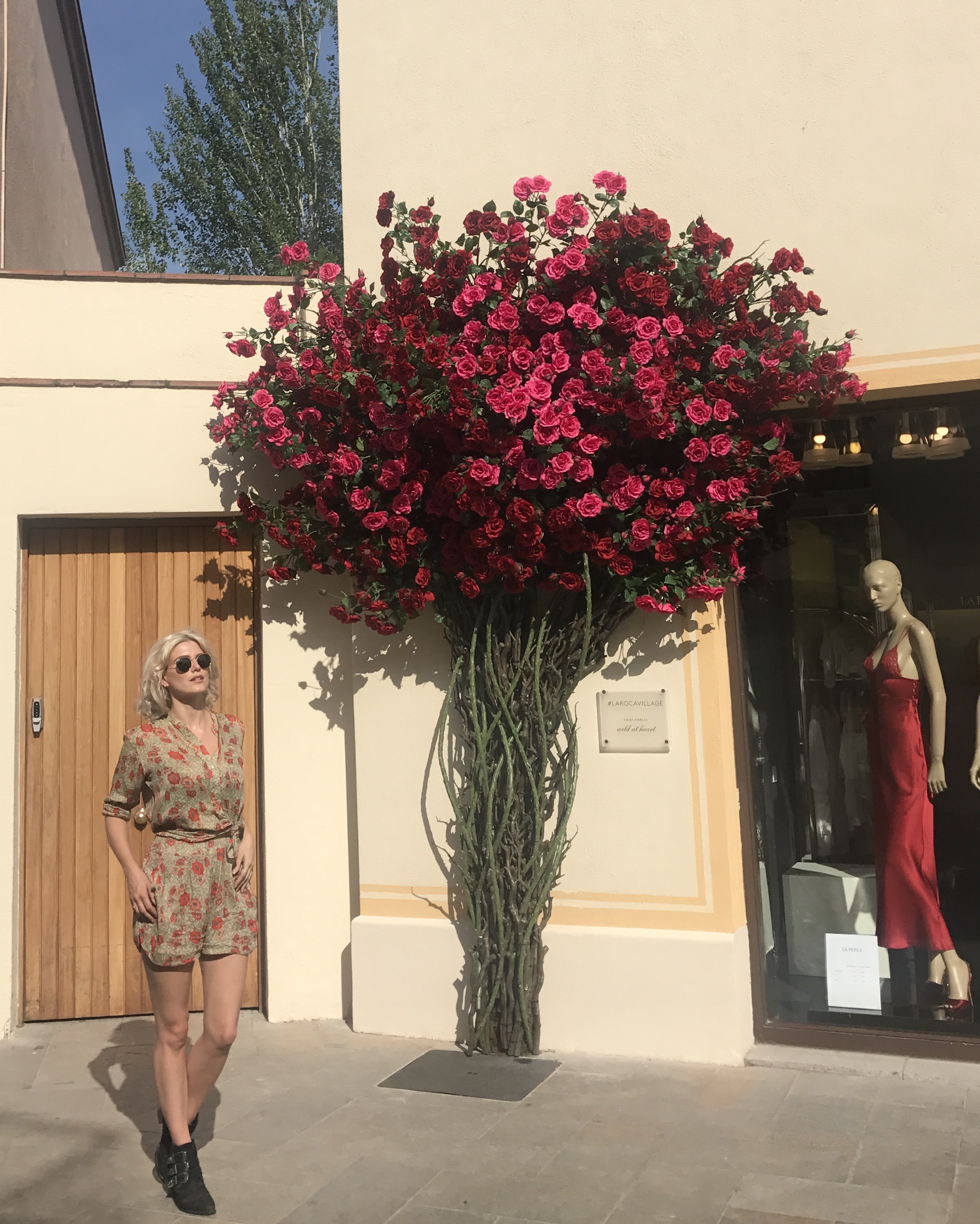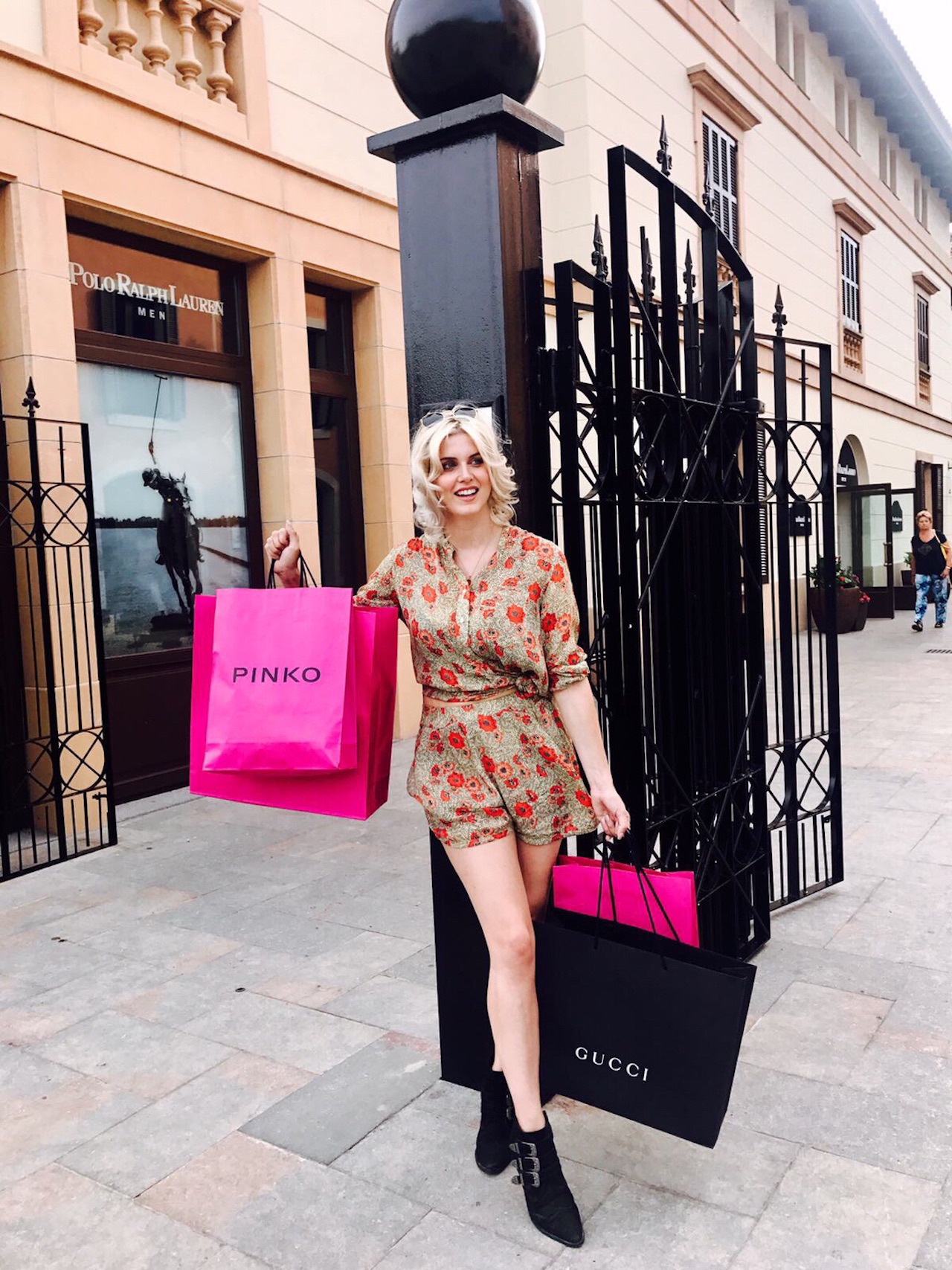 I bought a black Burberry trench coat, some incredible Gucci shoes (which were only 100 euros), and then I bought cropped sweatshirt and the most amazing red knitted dress from Pinko. I could have spent all day (and all my money) there, it was heaven. And the Spanish sunshine definitely helped things too! Thankfully we were on a tight schedule and my shopping was curbed, as we had an incredible Spanish lunch at one of the restaurants at La Roca Village, before we spent the afternoon checking out the Barcelona Designers' Collective pop-up.
Barcelona Designers' Collective
The Barcelona Designers' Collective pop-up will be at La Roca Village until the 30th August and is a place to showcase and buy emerging talent from Barcelona. The space hosts over 70 independent creative talents who have their own brand in fashion, graphic design and illustration, product design, crafts and jewellery. I think my absolute favourite discovery was the sunglasses brand LOOL eyewear. Their frames were so lightweight and the designs so original, I really regret not buying some. I did however take a rather fantastic selfie!
Rather amazingly, I also got to meet the incredibly handsome and renowned fashion designer Roland Mouret, who talked about his commitment to supporting up-and-coming talent, as this year marks his 20th anniversary as a Designer.
A Tour of Barcelona's Talent
The next day, we met bright and early to have a walk around Barcelona touring some of the interesting places for architecture and fashion. I thought I would share some of them with you so you can check them out if you're in Barcelona, as I really enjoyed visiting different places and discovering so many unique designs and spaces.
Jaime Beristain Concept Store 
Beriestain is a leading industrial and interior designer on the scene in Spain, and the space has been treated as if it was Beriestain's home, where you can buy the vintage furniture, objects, international books, fragrances and more, and eat in the restaurant, which is set up to give the impression of sitting among friends at a dinner party.
Address: Carrer de Pau Claris, 167
NU#02
NU#02 is no ordinary store, it's the concept of Catalan designers Josep Abril, Miriam Ponsa and Txell Miras who joined forces to create their own flagship that aims to become a meeting point in the design world created and manufactured in Barcelona. The store is located in a former electrical equipment warehouse of and it respects the spirit of the original space.
Mar De Cava 
Mar de Cava was one of the very first concept stores to open its doors in Barcelona, and is the brainchild of local designer and architect Mar Gómez who decided to open her own locale in 2011. The shop specializes in hand-made an artisan designer gadgets and furniture from a number of Spanish and international designers, and I absolutely fell in love with this place. If you are ever in Barcelona you have to check it out, but if not, lucky for us all there is a website!
Address: Carrer de València, 293
Wer-haus
Wer-Haus is a concept store with 3 dedicated spaces focusing on Fashion, Food and Art. Specialising in photography, with an art gallery and bookshop, they also stock menswear from a selection of avant- garde names such as Études Studio, Gosha Rubchinskiy, misbhv, CMMN SWDN, MariusPetrus and Sunspel along with high fashion brands such as Lemaire and Raf Simons. There's also a café in the store serving breakfast, as well as amazing coffee.
Address: Carrer d'Aragó, 287
La Basilica Barcelona 
The Basílica focused on contemporary jewellery and has recently moved into a new space dedicated also to signature perfume as according to the founder, Polish artist Piotr Rybaczek, "perfume is an invisible jewel". There are over 110 fragrances making La Basílica Galería the largest perfumery space in the world, so it's worth checking out if you're looking for a unique scent.
Casa Bonay
Casa Bonay is a hotel that opened last March, and is collaboration between 15 like-minded creative types. It was created to "fill some of the city's gaps", according to co-founder Inés Miro-Sans". There is a restaurant here.
Address: Gran Via de les Corts Catalanes, 700
Si vas Descalzo 
Established in 2011 by a group of friends who used to run a sneaker blog, SVD aims to bring devout trainer addicts the best and latest in footwear. With a strong passion for art, music, fashion and tech and trainers (of course) — the collective have created a spectacular space showcasing its collection of cult sneakers all encased within a tech-inspired shopping experience. The store sits within marbled walls exported from Indiaand there's also a terrace bar with a ping-pong table. SVD is a really cool space that also puts on parties, fashion shows, and DJ nights.
Address: Bailén, 18
I really wanted to share these places with you so that if you're ever in Barcelona you get to experience the city the same way I did, I guess whilst I didn't see the beach or the Park Guel, I fell in love with the city and its creative side. Plus, I got to come home with some absolute bargains! Let me know if this post has inspired you to check out Barcelona or la Roca Village.
If you're wondering about my Barcelona wardrobe, the cute shirt and shorts two piece and the top with the laced-up front are both vintage Isabel Marant, so sadly aren't available, but I've linked all the other pieces I wore below:

I also had to shoutout the amazing photographer Diana Gomez, who took most of these images, either on her camera or on my iPhone. She was amazing. Thanks Diana!
Speak to you soon x