Up until this summer, I never understood the appeal with Ibiza. Summer after summer I'd watch my friends take trips to "the island", as it is so affectionately called by their Vengaboys, and I just didn't get it. I thought of it as a party island where people would go to party to repetitive house or techno music until 10am before doing it all over again, and whilst I like a drink and to let loose, the thought of that level of partying terrified me.
In the last couple of months I've been lucky enough to visit Ibiza twice, and I have discovered a completely different side to the island and can finally say that I understand why people fall in love with it. Whilst there's definitely a hardcore side to the island, Ibiza has so much more to offer and also boasts the most incredible music scene ever with artists from all over the world performing! I am now so in love with Ibiza and am already excited to return!
Maybe you're reading this and you've avoided visiting Ibiza for similar reasons to me, in which case I would urge you to go consider going there (although just FYI most things will close over summer so maybe wait for spring time). Or maybe you visit Ibiza every single summer and can't believe how late I am to the party! Either way, I thought I would share some of my top recommendations with you: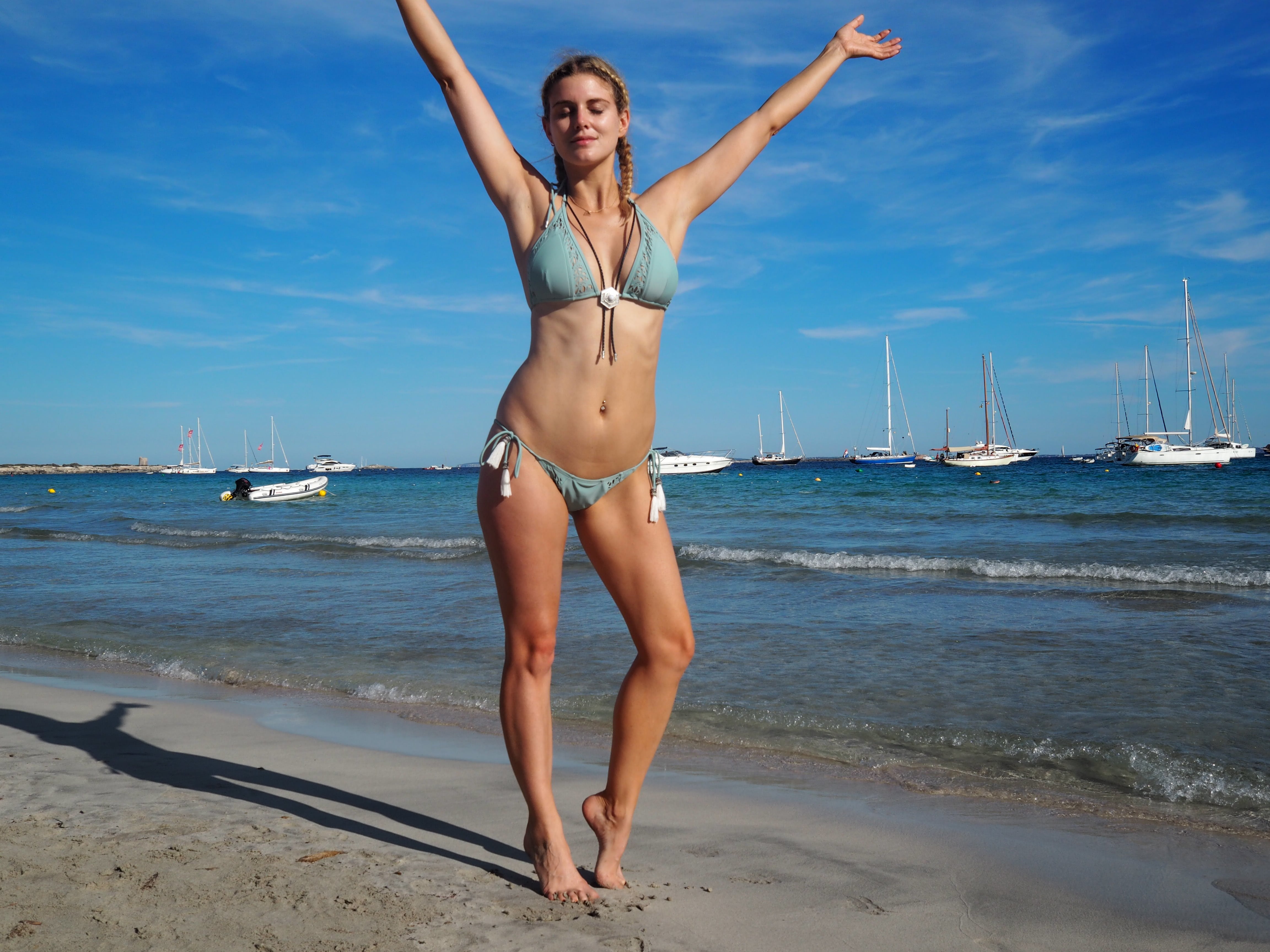 STK Ibiza is a new addition to the island and is hands down the best restaurant I've ever been to, and not just in Ibiza either, I'd go as far as saying ever! I've even visited the STK in London and loved it, but it honestly doesn't compare. There's an energy in that restaurant that I've never experienced before!
STK is a steak restaurant, but so much more than that. You sit in booths and the food is mouth-wateringly good, and if you don't eat steak don't worry they do other things as well. I had the most incredible steak and just thinking about it is making me want to fly out and go back there! But its true magic lies in the atmosphere and entertainment. The restaurant is lit like a club and there's a live DJ that plays tune after tune – people are dancing on the tables, or bopping from side to side as they eat and drink. There's continuous visual entertainment too with an array dancers both on stage and going around the tables. The vibe there is infectious! We found ourselves drinking cocktails and enjoyingback to back tunes there until it closed.
If you get a chance, you have to check it out, and let me know what you think of it!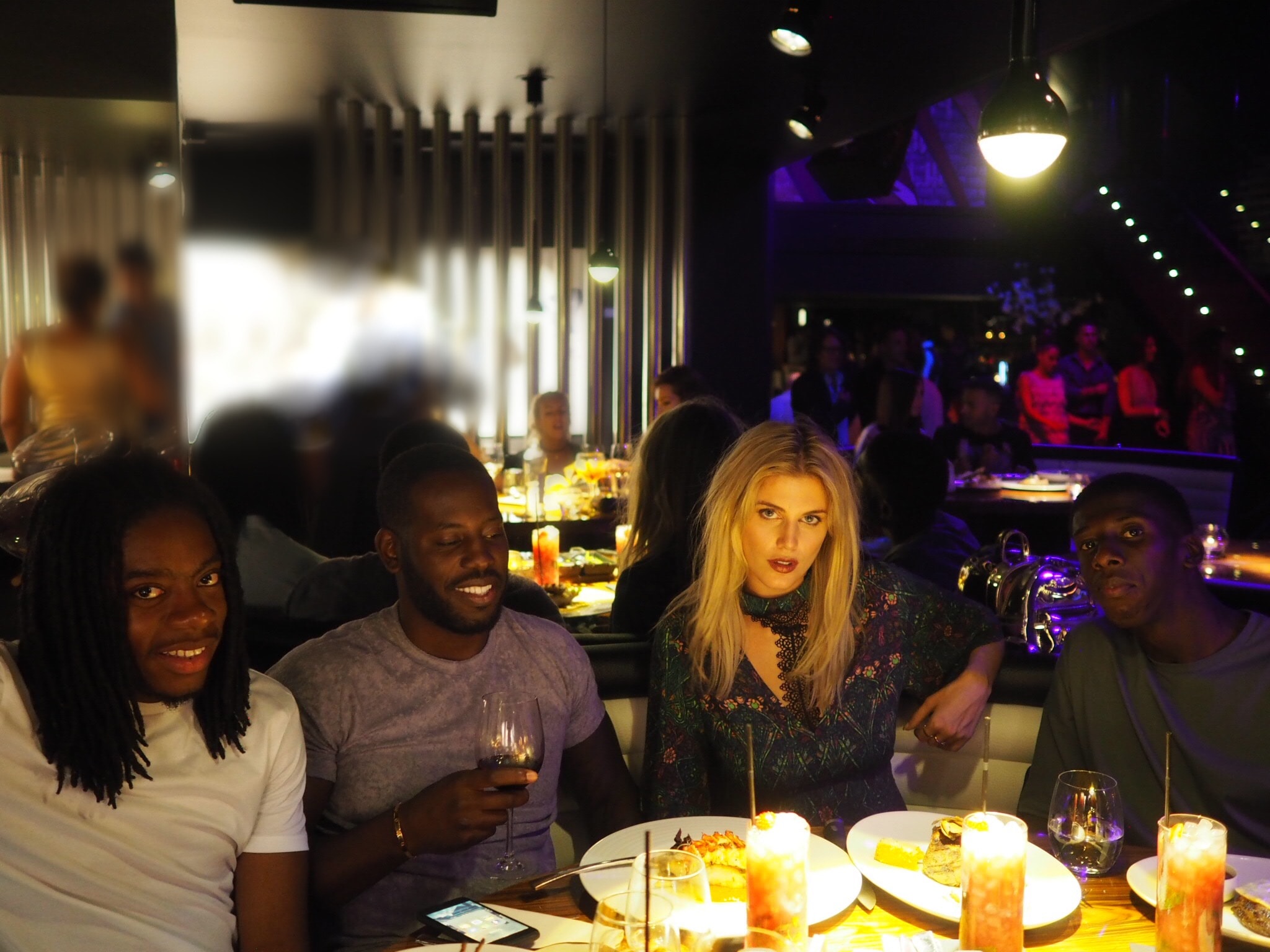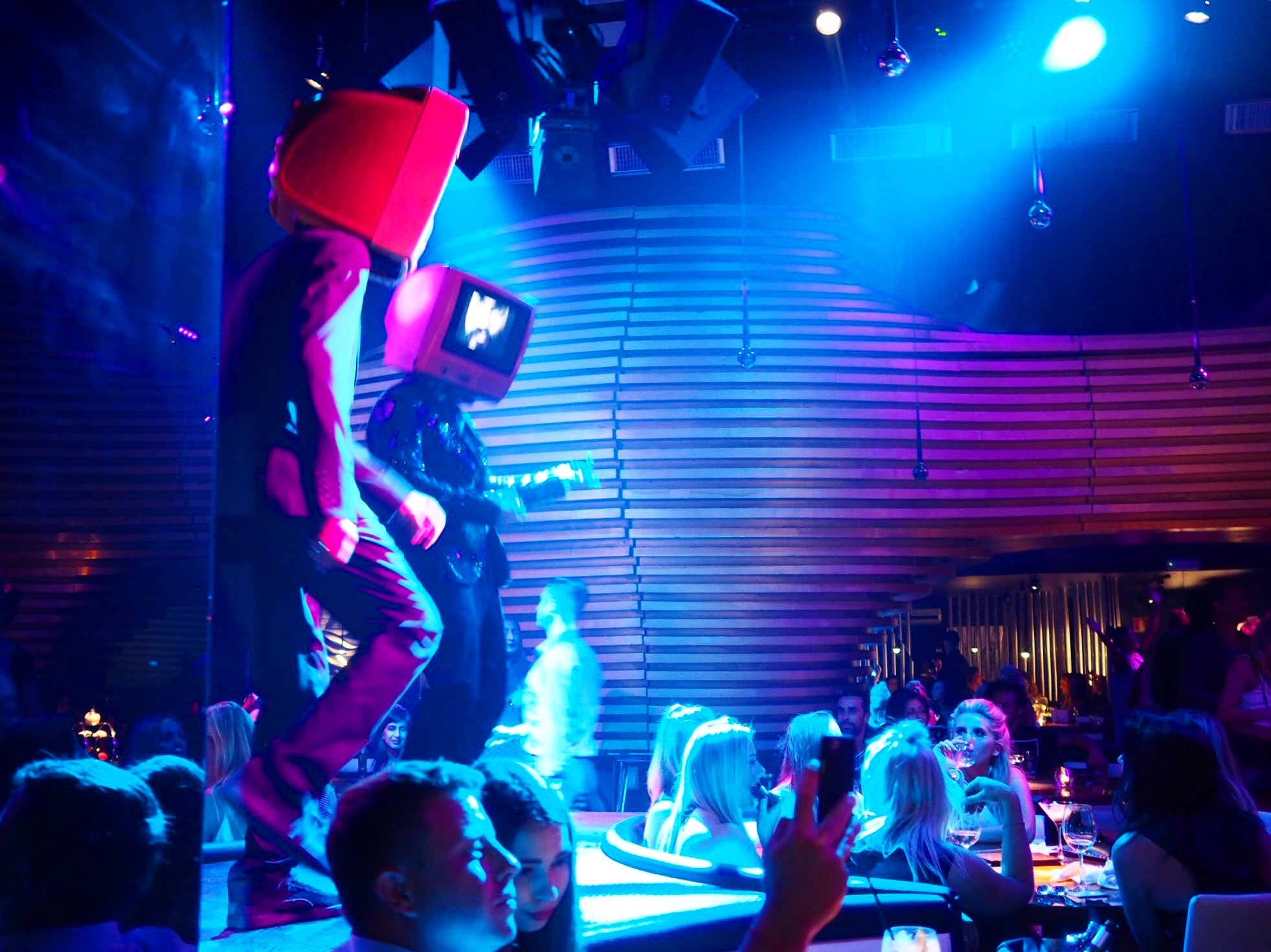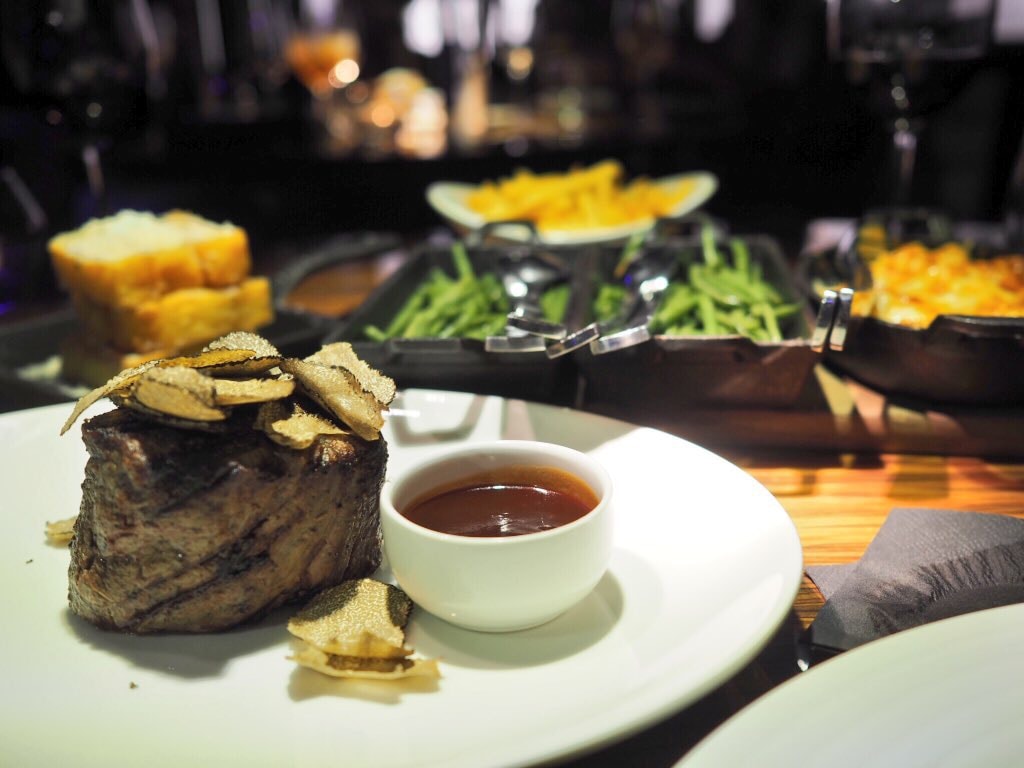 Another highlight of my trip was spending a day soaking up the atmosphere at one of the best day parties ever centred around a giant swimming pool. You can hire a bed where you can order food and drink and chill out all day – the food platters are amazing, especially the Mexican and Japanese ones. What I loved about this place is that if you just want to eat and sip champagne and sunbathe you can do that, or if you want to go crazy and party you can do that too. Basically there's just all round good vibes, helped with the insane entertainment which included dancers being craned through the sky and the super fun group on the bed next to us. Also the cocktail we had was served in a copper flamingo and cups, which you'll know how much I appreciated if you're familiar with my copper obsession.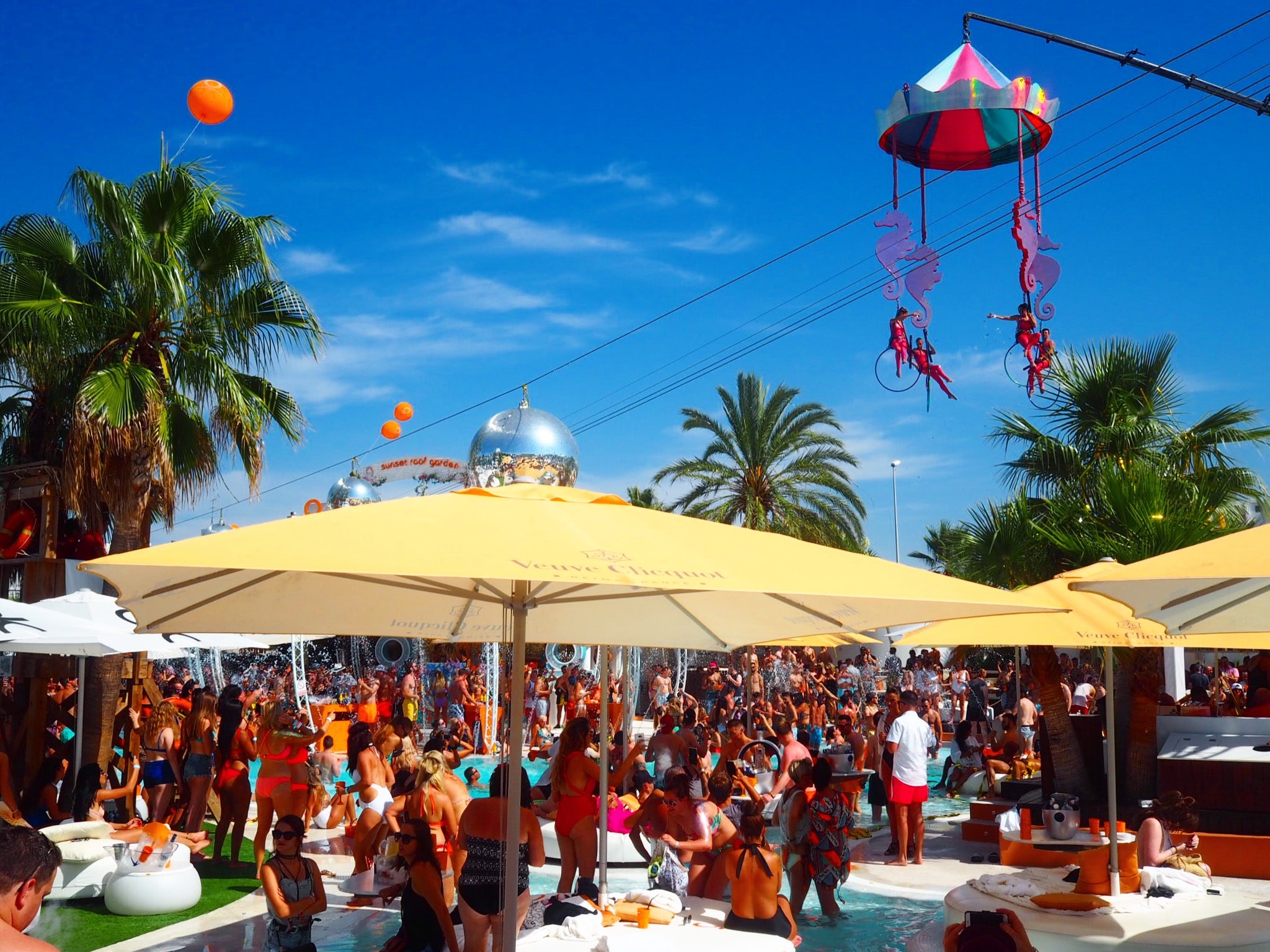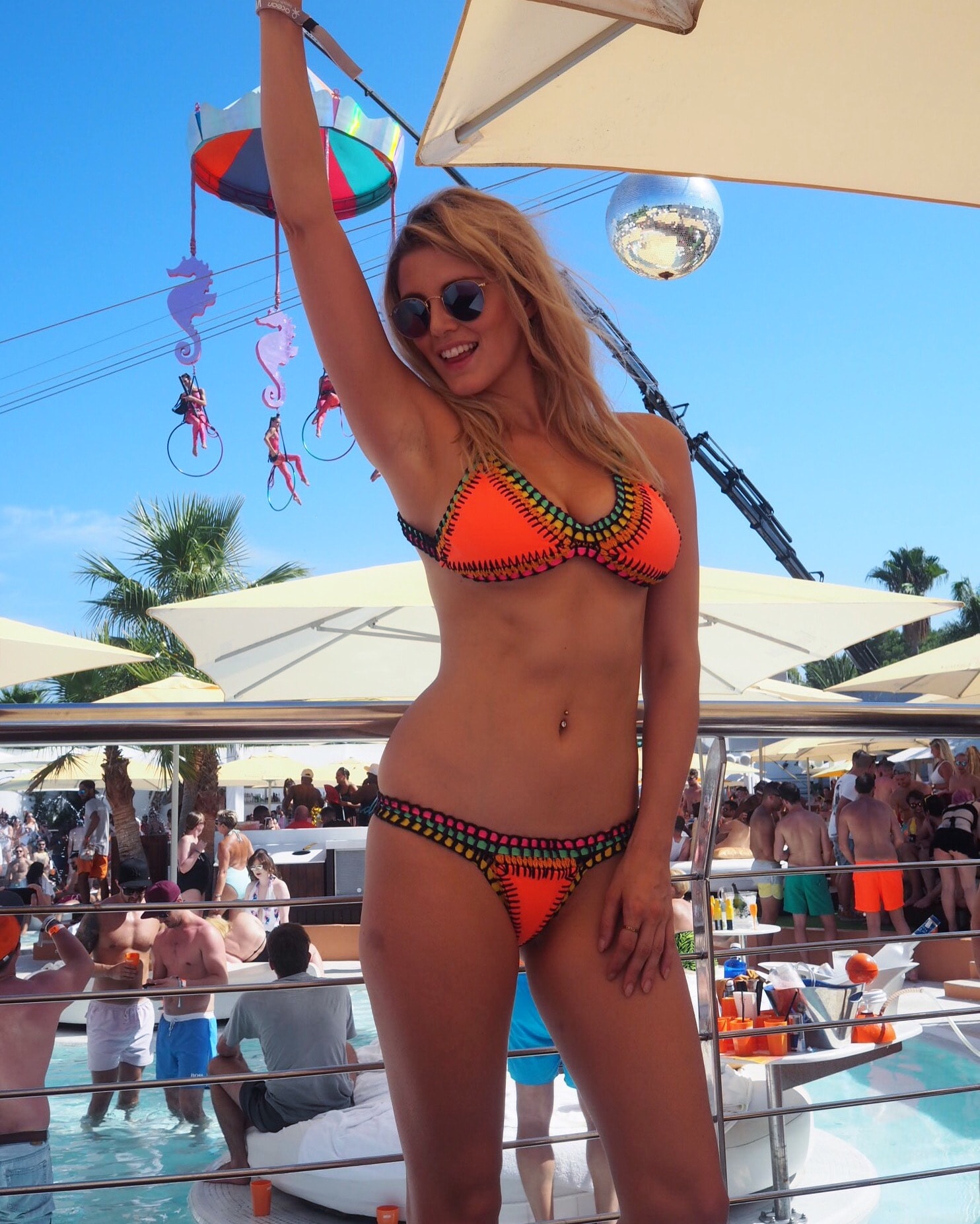 Ushuaia has to be my go to place at night time! I went a couple of times and had the best nights there. Ushuaia is actually a hotel and the rooms surround a pool and big stage where all the entertainment happens and lots of artists have residencies there. My favourite night was watching Tinie Tempah, he brought out so many awesome UK artists, and it's like a normal gig but in the open air, and with some Ibiza magic. All the guests who have rooms watch from their balconies, there's people in fancy dress and whistles – the vibe is just really electric! The night's always finish at midnight so either you can go on to one of the bigger clubs or go home depending on what you want to do!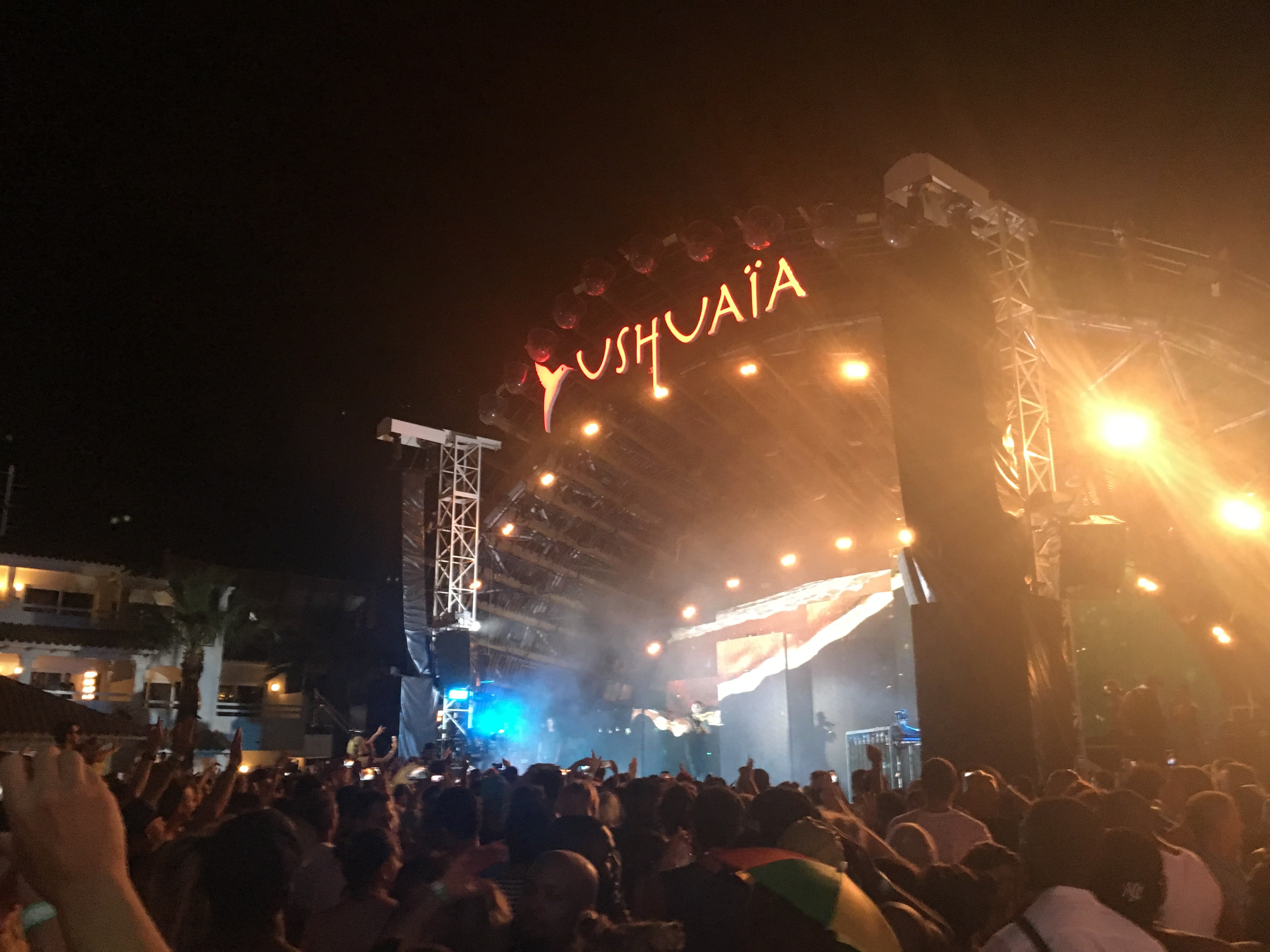 Platja de Ses Salines
We spent the whole day on this beach and had such a good time we were literally the last people to leave it! We rented a bed which belonged to one of the beach front restaurants which meant we got food and champagne brought to us all day long, which was so blissful! I even bought a kaftan off one of the many sellers that walk down the beach. The highlight had to be watching the sunset though!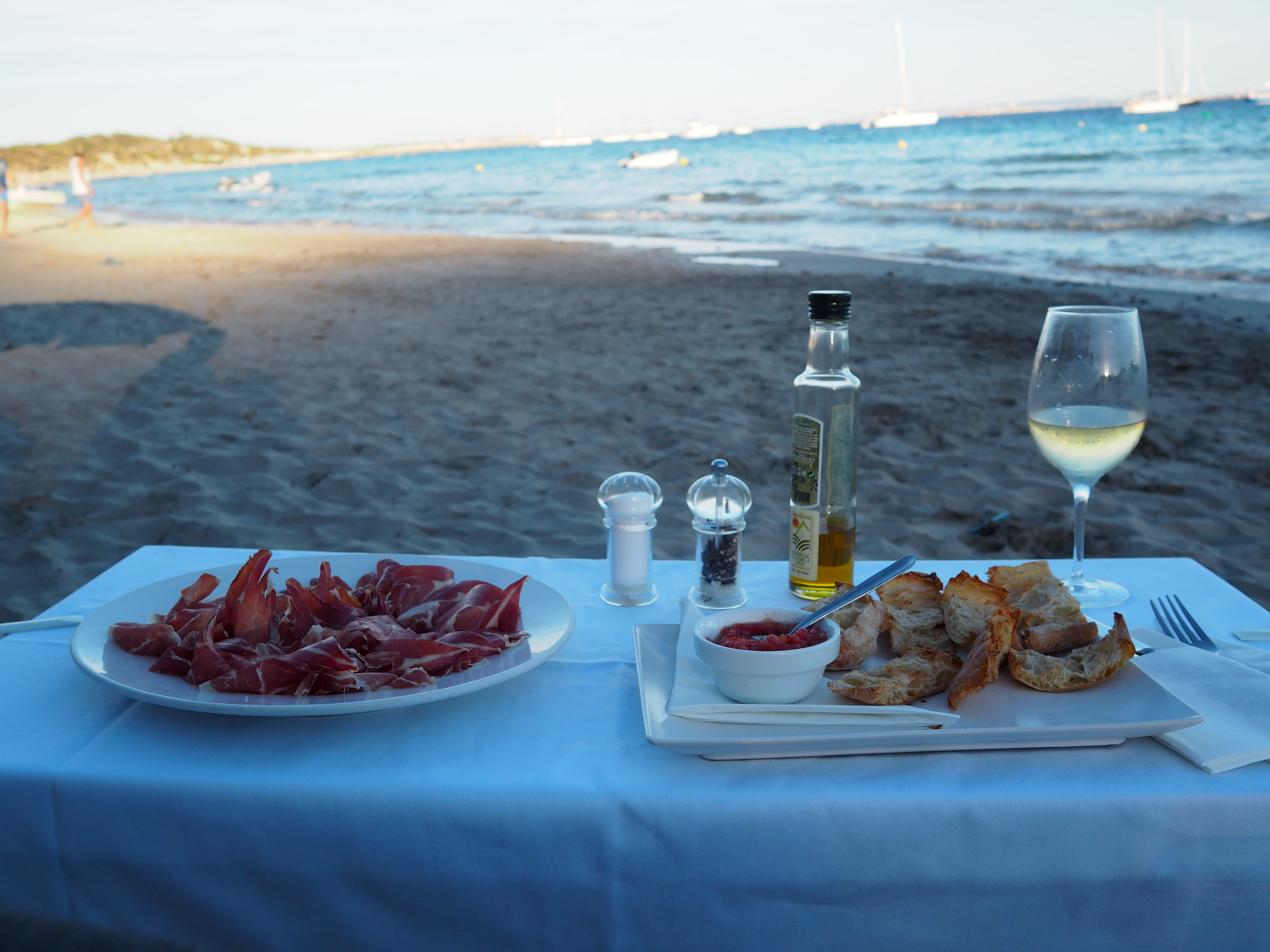 Accommodation:
Whilst I definitely haven't explored the whole of Ibiza when it comes to accommodation I was lucky enough to experience two different hotels of varying budgets that I would totally recommend.
This is definitely one of the nicest hotels I've stayed in! As the name suggests, the hotel is part of the Pacha group and it's so luxurious! I stayed in two different suites there, one which had a small balcony and separate living room and bedroom, and one which was another level which had all of that but it's own outside garden with a private pool, bed, and sea views. It's honestly amazing and perfect if you're looking for somewhere special to stay. It's probably about 20 minutes from the hustle and bustle but taxis are easy! I'd say my favourite thing whilst staying here though was going to the main pool to enjoy sushi from the beds. Writing about it is making me wish I could go back there.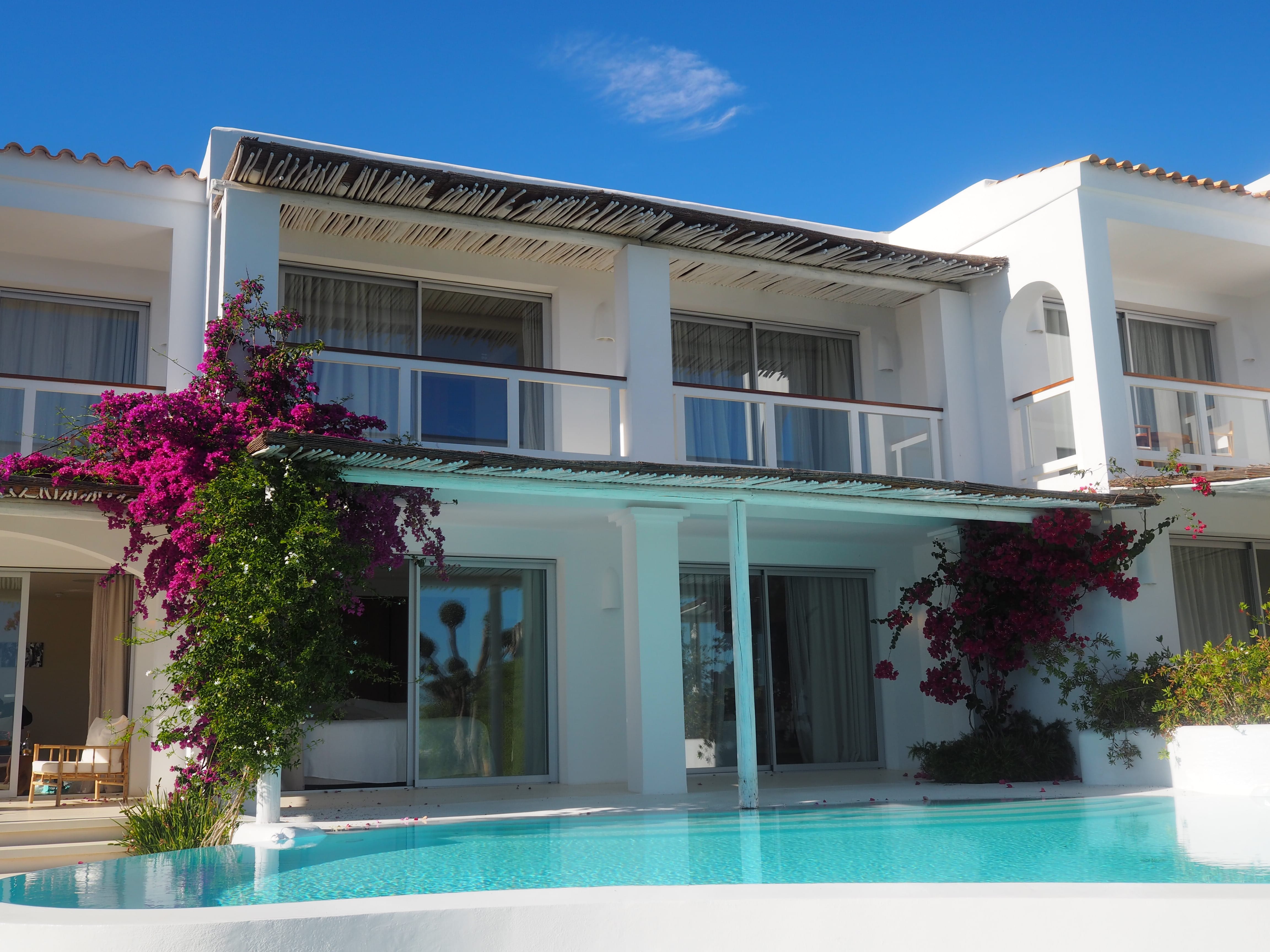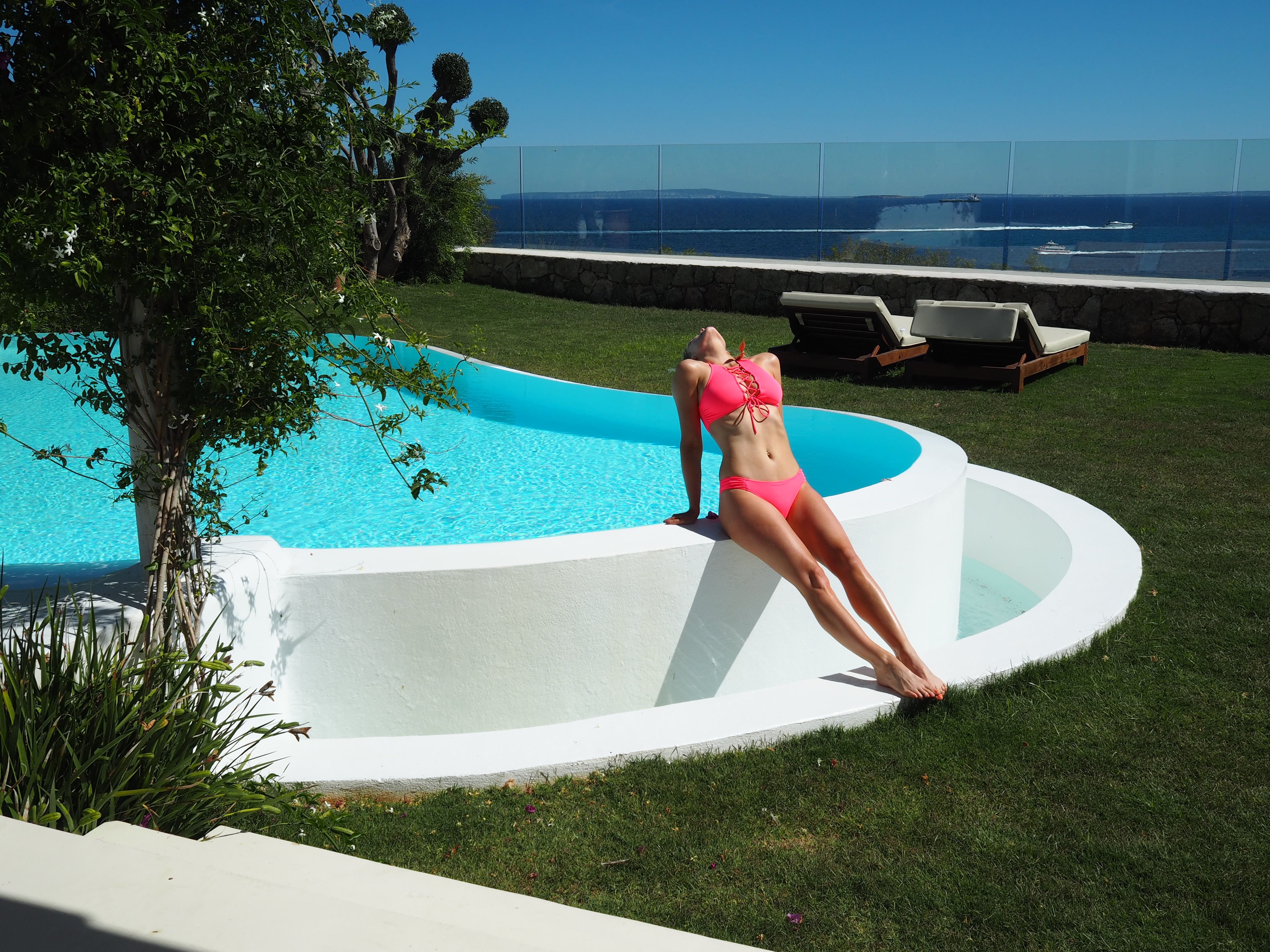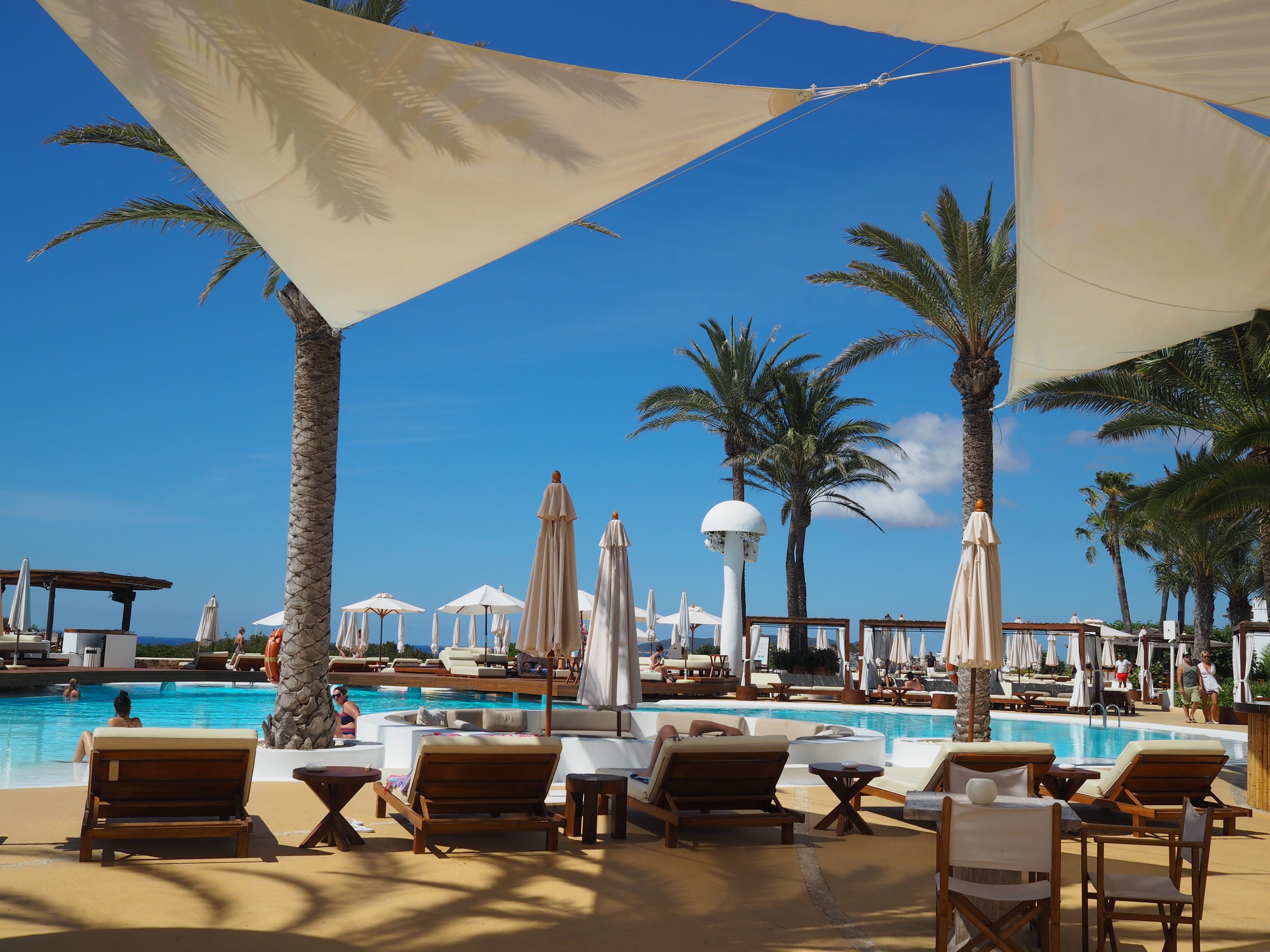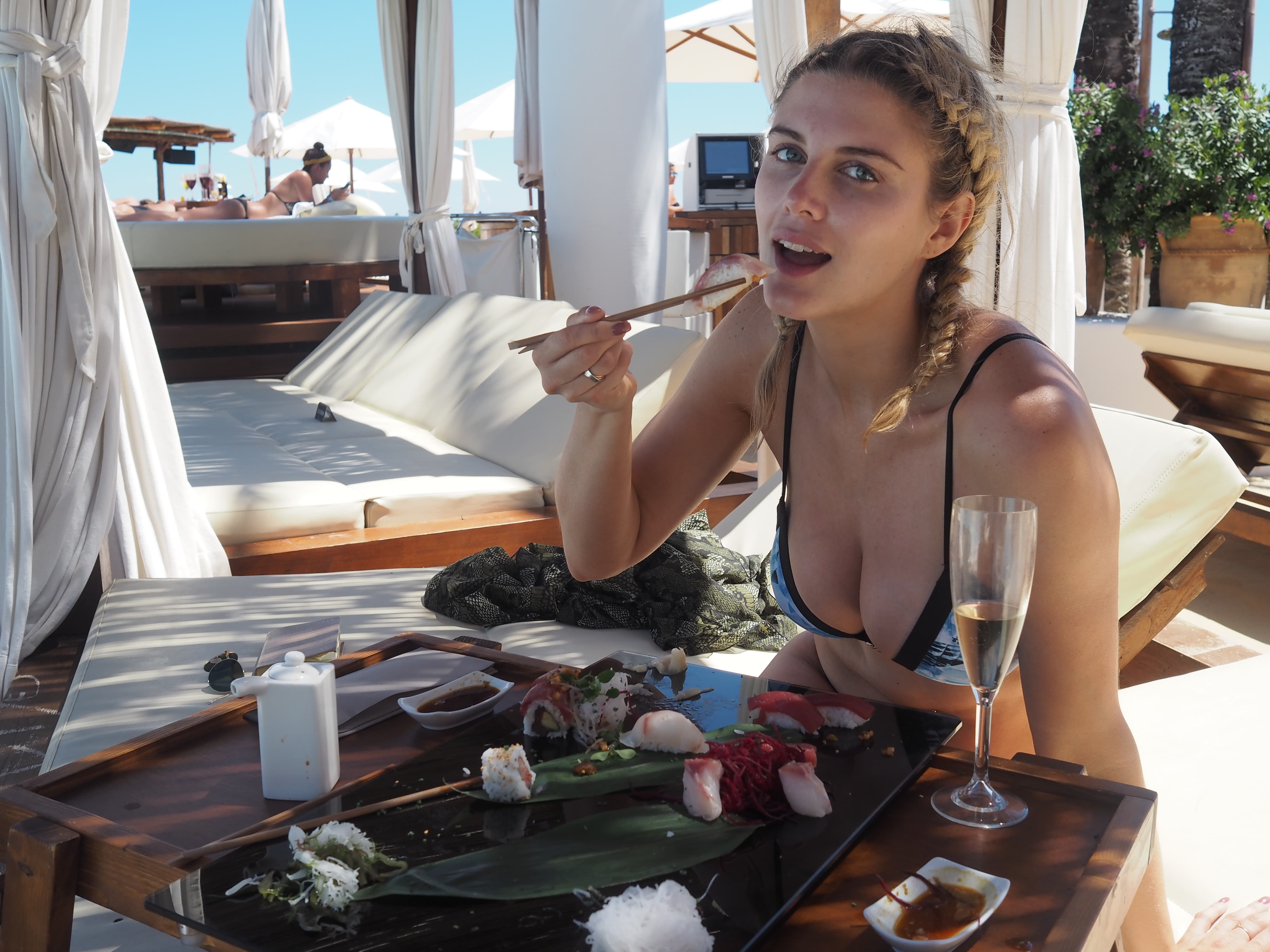 I spent one night at the Hotel Es Vive and fell in love with it. It's smaller and has more of a boutique feel, but it's very clean and pretty and is closer to the heart of everything. My room had an art deco feel, and the most amazing shower! The balcony was the perfect place to chill out at night and looked onto the picturesque pool, where we watched people chatting in groups. It was amazingly peaceful, and the staff were all super nice too. I walked to a beach strip in about 5 minutes too!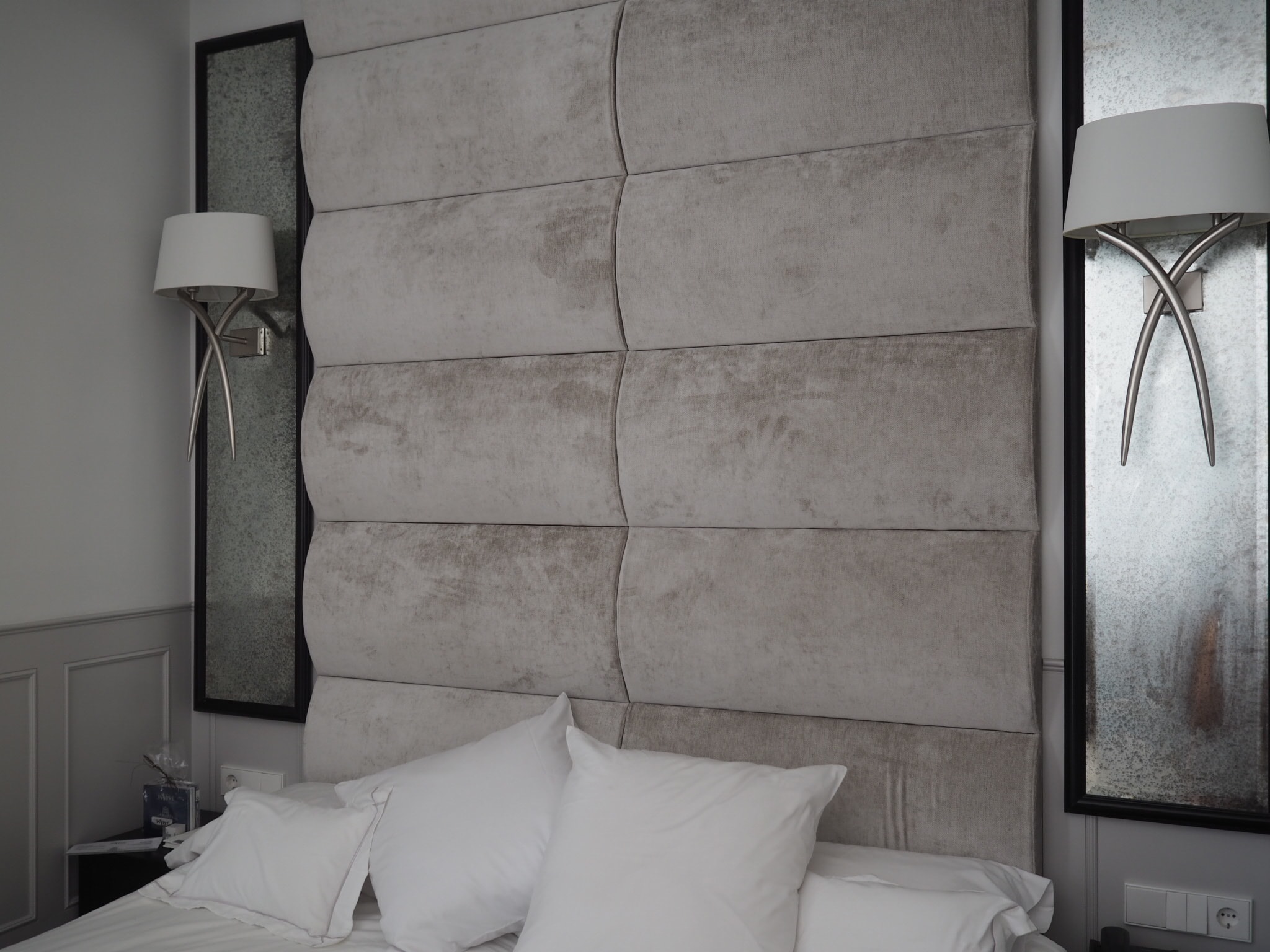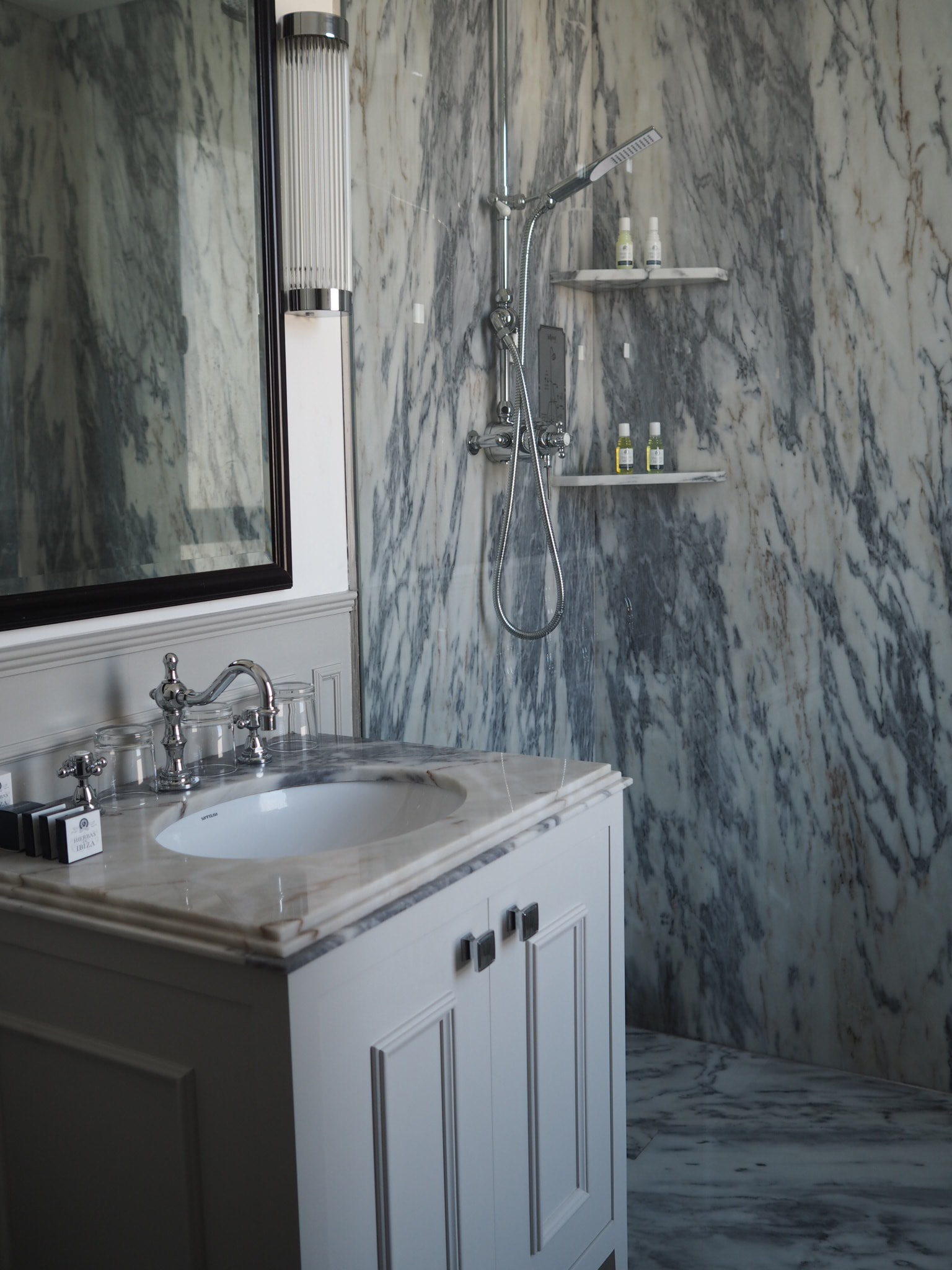 Formentera Island
One of the greatest decisions I made was taking a day trip to Formentera, which is the smallest of the Balearic islands! Its beaches are more beautiful, the water is probably the clearest I've ever seen and it's definitely a more peaceful vibe than Ibiza.
I spent the day by the pool at Gecko Beach Club eating amazing food and drinking equally as amazing champagne (by the way, I discovered that the Ruinart Blanc de Blancs is my favourite champagne of all time). The Beach Club is literally in front of the sea too so you get best of both worlds. Next time I go, I actually want to spend the night there as I definitely wasn't ready to leave.
On the way back we missed our ferry so ended up going for a meal on the harbour which was really nice, and very romantic as the sun set!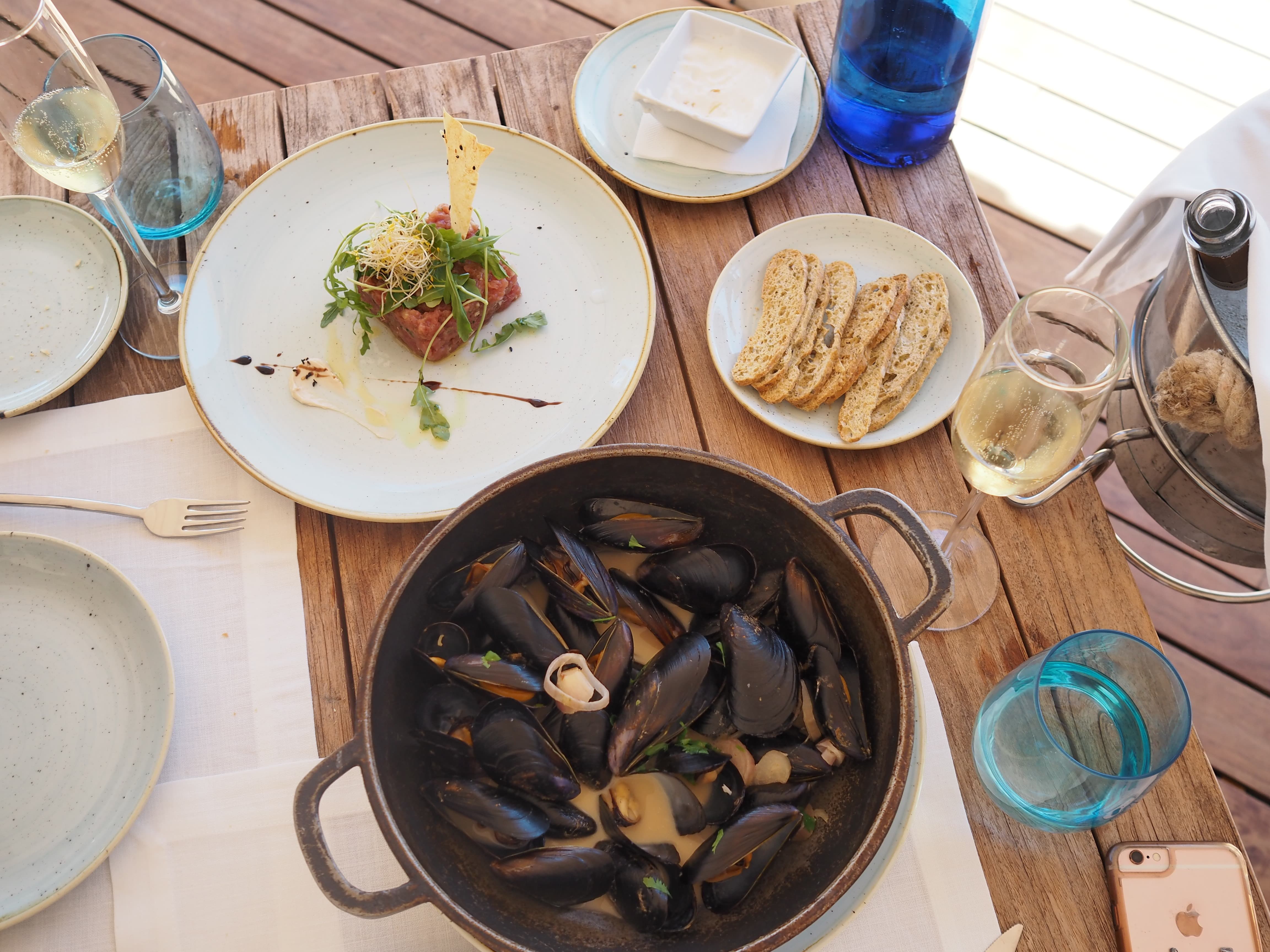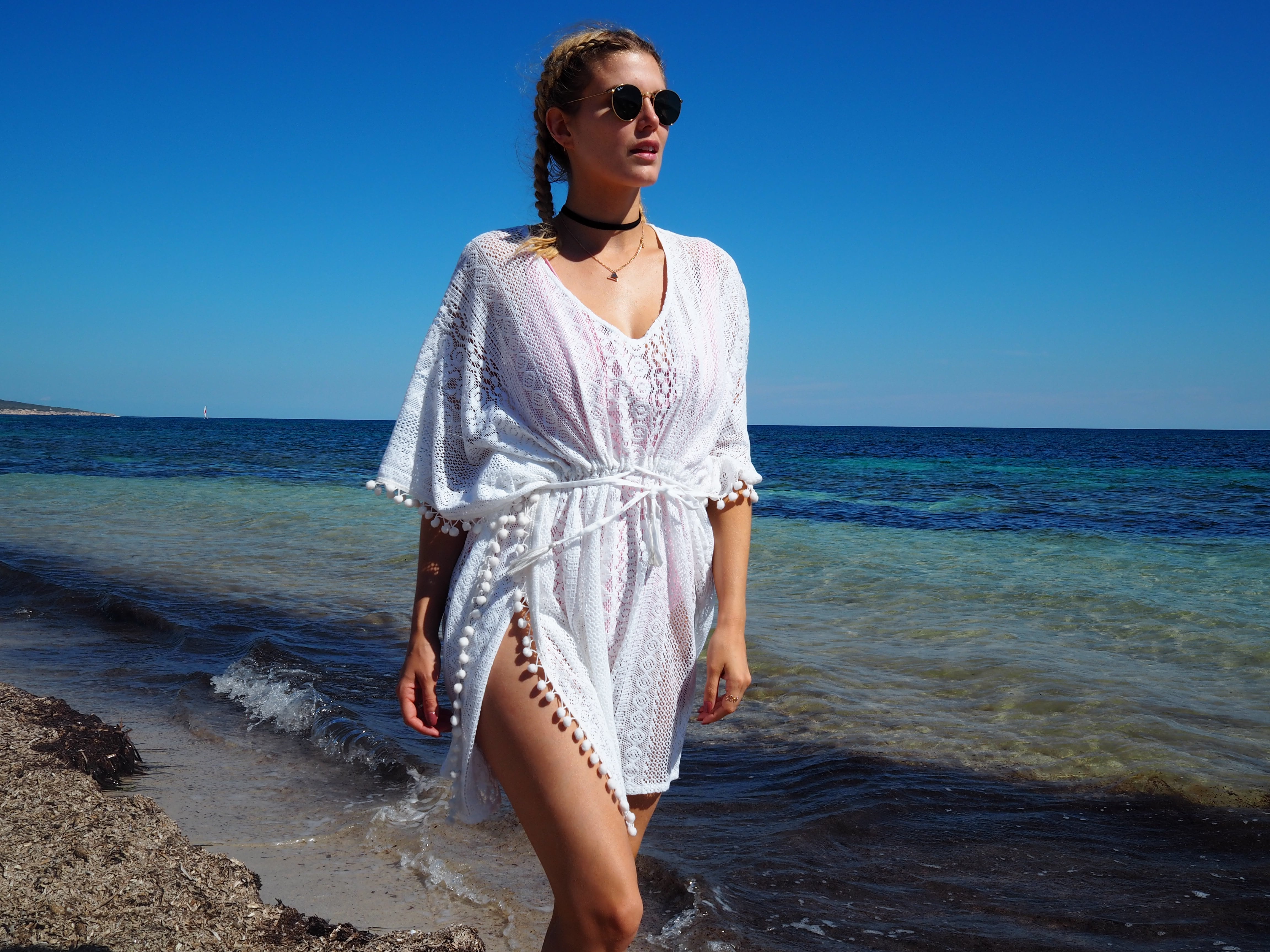 So there's my very beginners guide to Ibiza! Let me know if you find this helpful and if you end up going to any of the places of the back of this post then I'd love to know what you thought! Equally, I'll definitely be going back to island next summer so let me know all your recommendations too!
Speak to you very soon,