After the amazing response from last week's 5 ways to wear velvet, I decided to focus this week on 5 ways to rock the ruffle trend. Think frills and cute trimmings to transform your winter wardrobe.
Outfit 1
I feel like this is the ultimate festive outfit – I always love wearing metallics over the Christmas period, and I can't believe this skirt is off the high-streeet!The over the knee boots are amazing and always get so many compliments when I'm out and about – but make sure you tit tape them to your legs to stop them from falling down. I love the ruffles on the ribbed jumper – it makes it a bit more interesting and feminine.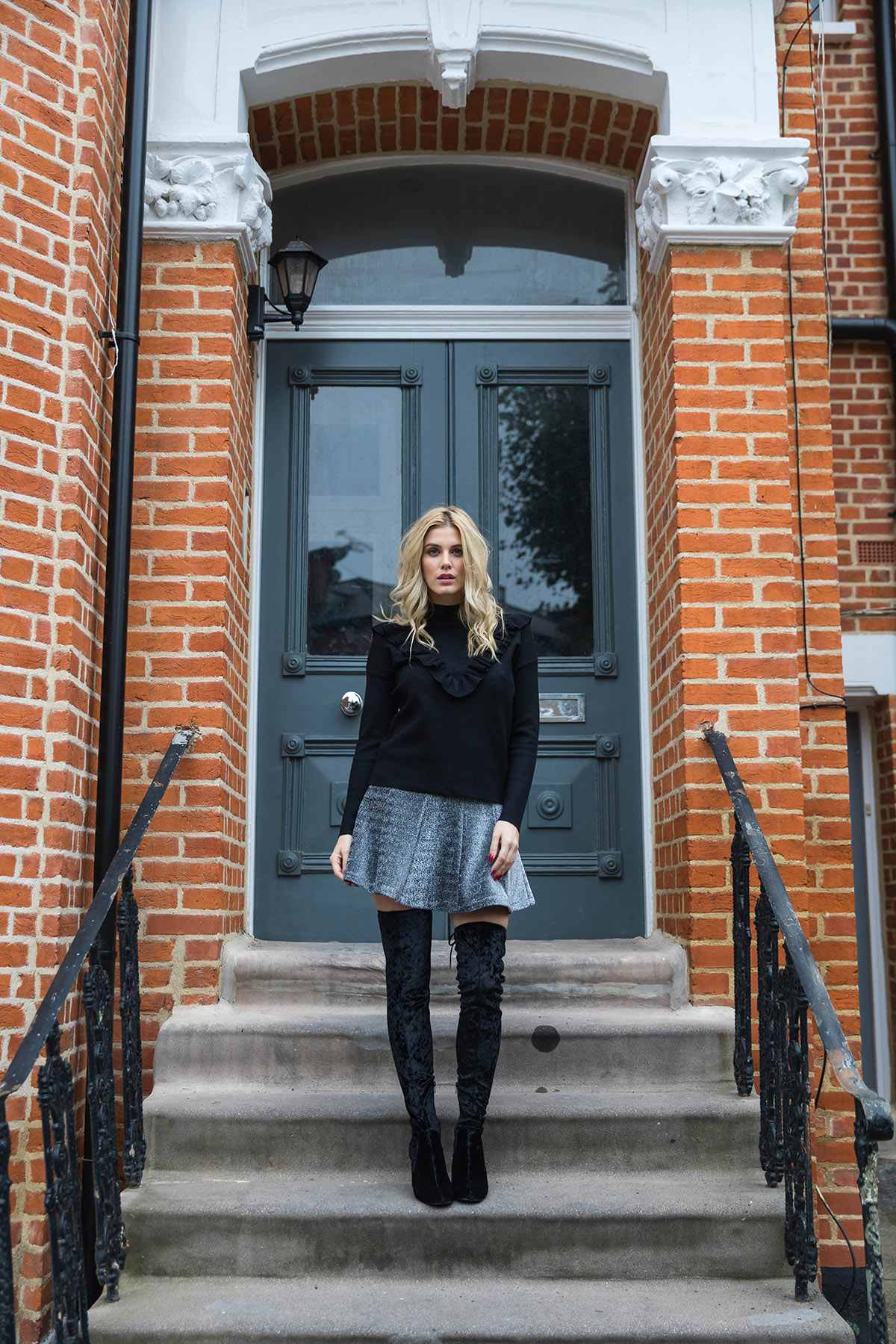 Black jumper: New Look 
Silver skirt: Lipsy
Black velvet boots: River Island
Click on any of the images below for more details:
I've also added similar items at different price points below:
Outfit 2:
Leather trousers are synonymous with cold weather for me because they are so warm, and I rally love how this sheer dress looks over the top with the plaid hoody and metallic boots.
Hoody: Bershka
Sheer dress: Bershka
Leather trousers: River Island
Silver boots: New Look
Outfit 3:
I'm totally obsessed with these flared jeans, and they work so well with pointed ankle boots. A leather jacket is a good wardrobe staple too!
Studded jacket: Bershka
Pink tee: PPQ
Ruffle jeans: ASOS
Blue boots: Very
Black clutch bag: Bell & Fox
Outfit 4:
Ok, this is probably my favourite outfit of this week's theme – it's the perfect outfit for a night out and I am obsessed with these face boots from my favourite shoe brand, Loriblu.
Black coat: PPQ
Shirt: River Island
Skirt: Pull & Bear
Shoes: Loriblu
Outfit 5:
Ok my favourite thing about this outfit has to be my brand new Olympus Pen camera. Loads of people always ask me what camera I use, and I totally swear by this camera. Also a moment to appreciate the cat that posed perfectly in the background and matches my outfit perfectly, haha!
I hope you love these outfits as much as me and they inspire you to add some ruffles to your wardrobe – you can like this post or leave a comment to let me know! Which is your favourite outfit? I'd love to know what you think. I'll publish the next 5 ways to wear post next Monday so let me know if there's a particular trend you'd like me to focus on.
I also wanted to say that my hair and makeup was doing by the awesome team at Secret Spa (a London based beauty app) – thanks to them and to Oscar May for his awesome photography!
Speak to you very soon,