If you aren't familiar with the online boutique Silkfred, then you need to be! It's an online boutique that sells a wide range of incredible independent brands, and it's affordable.
It's a site I've been familiar with for a while, and it's got a very special place in my heart as they were the first place to sell my brand when I owned a bangle company.
I wanted to share some of my favourite pieces from the site with you as let's be honest, it's nice to wear something unique and a bit different. I'm sure I'm not the only one that has found an AMAZING dress or bomber jacket on the high street and then you're mortified when you go out to discover that every other female had the same idea as you! Plus, it makes me feel good to know that I am supporting people who are trying to build a company rather than a big corporate company.
I shop on Silkfred for everything from bikinis, to going out dresses, to coats, even to mermaid blankets. You name it, they will have it!
The best bit of news is, I've teamed up with the team at Silkfred who have not only let me loose on their website to give you my top picks but I also have a promo code for you so you can get a discount – keep scrolling down to find out more! I hope this helps inspire your wardrobe and also helps you navigate your way through the site if you are unfamiliar with the brands.
Before that though, let me show you some of the amazing pieces I found on the website just before I went on holiday to Dubai.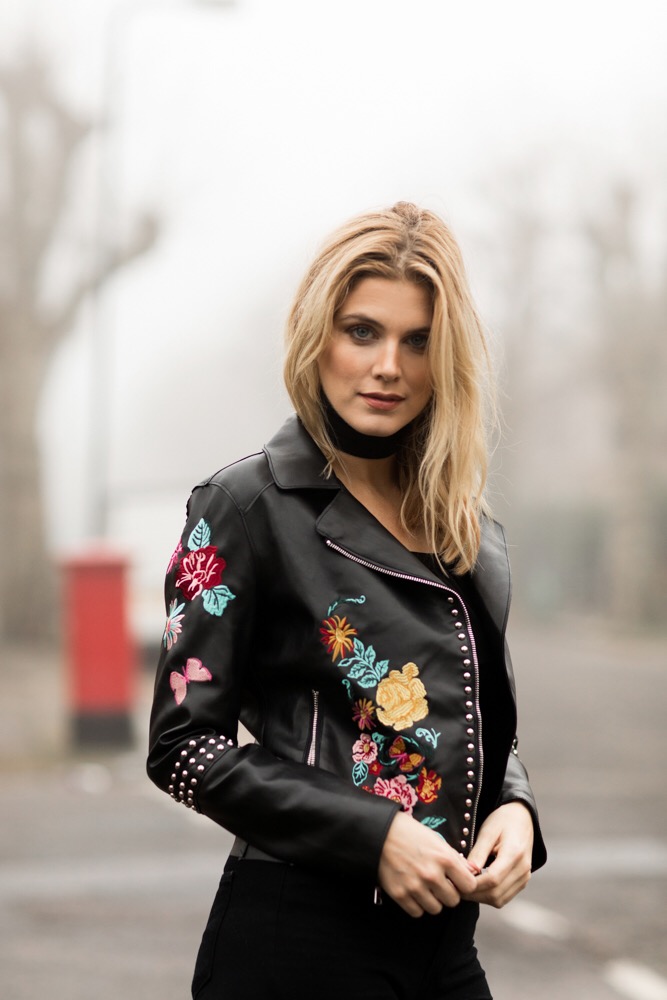 Can you tell how obsessed I am with this embroided leather jacket given how many photos of it I had to put it. It's by a brand called Glamorous, which I would definitely recommend checking out if you have an inner hippy in you as I have stocked up on dreamy tops and maxi dresses there before! Check out the silver bomber too!
I love this leather jacket because they literally never date and they work well in summer (with a floaty dress) or winter (the way I've worn it), day or night. I like versatile clothing because I never want to spend money on something only to be able to wear it once!
I could not be more obsessed with this bodysuit for two different reasons. I find a bardot shaped top so glamorous and flattering, but also because I way prefer wearing bodysuits over T-Shirts as they cover up any love handles that would sometimes pop over the jeans and are more fitted. They are a nightmare to go to the loo in though, be warned!
It's so weird I picked this bodysuit as my friend Steph just bought it too! But I love it as it instantly dresses up a pair of black jeans, especially worn with a choker. I'm wearing it with the leather jacket in the photos above, and I love the shape on the neckline as personally I find collarbones very sexy to show off. Is that just me?
Anyway, it's from a brand called LOVE, whose clothes I've worn to various events in the past. Think super cute co-ords, slogan tees, and nice dresses.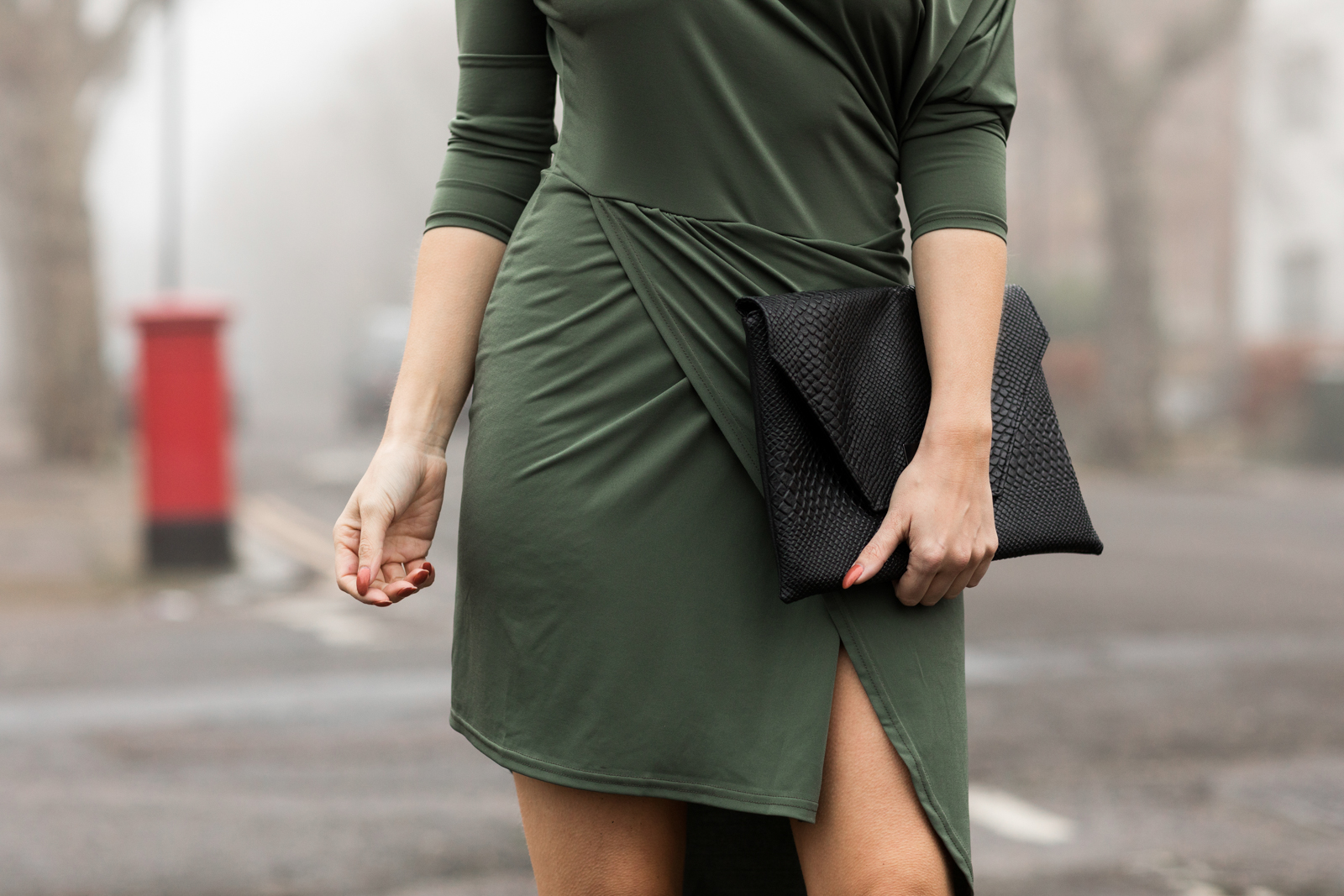 I love this dress as it's so different, and because of that you can just throw it on and it looks amazing with minimal effort. I mean, is it long, is it short? I feel like you can get away with wearing it to something a bit fancy because it's longer at the back. Oh, and did I mention that khaki is one of my favourite colours to wear?
It's from a brand called Never Fully Dressed and I'd highly recommend checking them out if you're a fan of this dress. I'd say they're one of my favourite brands on the website!
Ok, I know that you maybe wouldn't actually wear this to work, but I do feel like this dress has serious office vibes. Do you see it too? That's why I matched it with some killer black heels and my new briefcase bag from Aspinal. I love this dress so much, it's sexy but still sophisticated – I think it's the whole sexy secretary thing going on! Just me?!
It's from a brand called Neon Rose, who are amazing at taking classic styles and making them a bit sexier. Think lots of plunging necklines!
So there you have it, a very brief insight into Silkfred and the amazing independent labels you can find on there. What do you think, which is your favourite outfit out of the ones I've put together?
I know, I know, I promised you a promo code (as if you would have forgotten!). So Silkfred kindly created the code 'ASHLEY10' which gives you 10% off anything on their site. And don't forget to check out all of my top picks here.
I'd love to know if you found this post useful, as if so I will do more brand discovery posts. Please let me know if I've inspired you to shop on Silkfred now or in the future, and if you had heard of them before this post or not?
Oh I should also tell you to check out a brand on there called Scarlett Black, as it's my friend's label and she is super talented. I've even modelling her clothes for her website before so my face has even been on Silkfred's website – there's a useless little fact for you!
Thanks for stopping by and speak to you very soon! Happy shopping! x